Bezos Wealth Rises $7.9 Billion on the Worst Day of the Year for Market
(Bloomberg) -- On a day when the S&P 500 fell the most since October, the world's richest person got $7.9 billion richer.
Jeff Bezos's fortune swelled to $124.2 billion Friday as shares of his Amazon.com Inc. surged 7.4%, a day after the largest U.S. e-commerce company stunned investors with a fourth-quarter profit that far exceeded Wall Street estimates. His net worth climbed $9.3 billion through the first month of the year, according to the Bloomberg Billionaires Index.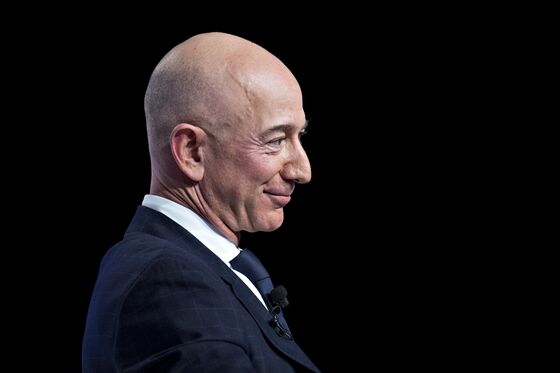 Bezos, 56, owns about 12% of Amazon's outstanding stock, making up the bulk of his fortune. His ownership of closely held Blue Origin accounts for about $6.2 billion. Friday's surge pushed Amazon's market value to $999.96 billion.
His ex-wife, MacKenzie Bezos, 49, owns about 4% of the Seattle-based retailer. The world's fifth-richest woman now has a net worth of $40 billion.
Bezos wasn't the only tech titan whose net worth changed dramatically this week. Elon Musk's swelled by $2.7 billion since Wednesday, after shares of his Tesla Inc. surged on better-than-expected results and an accelerated timetable for the electric-vehicle maker's new Model Y crossover SUV.
Mark Zuckerberg's fortune tumbled $5.9 billion on the week after Facebook Inc. posted its slowest-ever quarterly sales growth.