Buying the Dip on JBS Rewards Fund as Brazil Meat Giant Soars
(Bloomberg) -- When JBS SA was in the eye of the storm after its leaders confessed to bribery, one fund manager started snapping up slices of the Brazilian meat giant. Now that move is paying off in a big way.
Capital Group Companies Inc., which oversees $1.8 trillion in assets, bought the dip after May 2017's confessions by billionaires Wesley and Joesley Batista, the brothers who control JBS. Since that time, Capital Group's holdings in JBS have grown to 8.5 percent from 1.7 percent. That trails only the Batistas and BNDESPar, the investment arm of Brazil's Development Bank.
Meanwhile, the stock has surged, gaining 59 percent in dollars since Nov. 13 on strong earnings and a reduction in debt levels amid buoyant meat demand in the U.S. The result: JBS was the best security contributor for the Capital Group's New World Fund among 647 holdings in the fourth quarter.
"JBS has risen on a combination of strong fundamentals and improved governance," said Betina Roxo, an analyst at Sao Paulo-based XP Investimentos, in a telephone interview. "It's a very solid company, with potential to unlock more value"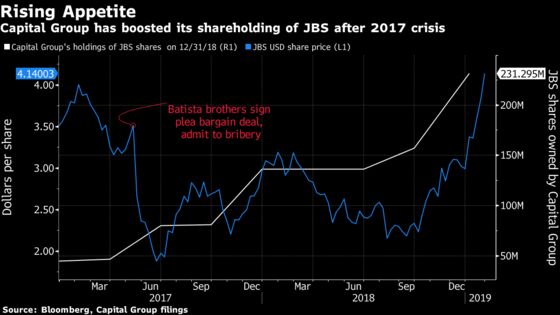 Sao Paulo-based JBS, the world's largest meat supplier, has also spurred optimism it will proceed with an initial public offering in New York after it named a new Chief Executive Officer and Chief Financial Officer in late 2018.
In Brazil, investors are required to inform companies when their shareholding reach 5 percent or more, which must be made public by the listed company. While JBS hasn't made any such disclosure on Capital Group's ownership, it could be because Capital Group's stake is held through divisions that individually own less than 5 percent, and which report ownership separately.
Both JBS and Capital Group declined to comment.