Better-Than-Feared Rally Has Some Scratching Heads: Taking Stock
(Bloomberg) -- The Super Bowl and the Lunar New Year (China, Taiwan, South Korea and Vietnam closed to commemorate the Year of the Pig) are tag-teaming equity markets to suppress any real early action this morning, with S&P futures effectively unchanged, a situation that it feels like has been the case for the better part of a week or two.
It was understandable last week when one would be justified in laying off risk until major catalysts were fully digested, but this week should shape up to be notably less volatile on that front. Crude is the notable actor early, with European majors (Shell, BP) accounting for much of the gains in the FTSE 100. WTI is holding above $55, which may help the U.S. energy names that led the S&P Friday.
But earnings are still in focus for the week, with Alphabet the first major report on the docket after the close today. We'll see if their results too, can come in "better than feared," to help recover some of the losses seen in late 2018. Though a player in the cloud segment like AMZN and MSFT, advertising is still king, and analysts are looking at Facebook's better-than-expected result last week as a positive read through for the search engine.
About half of the S&P 500 has reported results for the season, and there's a little bit for the bulls and the bears to take home, whether you're in the "better than feared" camp, or just looking at the magnitude of the beats. Sixty percent of companies have beat on the top line, while nearly 3/4 have beat on earnings, according to data compiled by Bloomberg. The aggregate sales surprise is less than 1%, and while many companies are beating estimates, allaying worst case scenarios (though estimates have come in markedly over the past few weeks), less than 1% can't be inspiring.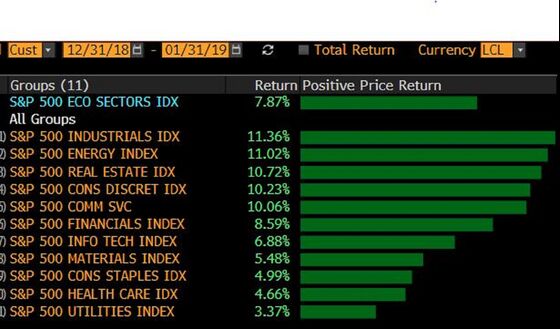 Deutsche Bank strategists say earnings have "disappointed significantly so far with the lowest beats in 7 years," but with that in mind, the S&P is up 8% for January with the most defensive of names lagging. Some analysts have called some of the volatility we've seen post earnings (like GE last week) "head scratching." And Citi analysts led by Tobias Levkovich write that they still see a preference from investors for growth instead of value. Its hard to argue with that preference after the payrolls figure Friday appeared to hit the sweet spot (allaying growth slowdown fears while keeping inflation (and the Fed) at bay). The next question will be whether the 10-year yield continues its rally after Friday's gains were some of the largest in nearly a month, potentially adding pressure to stocks.
Russia withdrew from the 1987 nuclear disarmament treaty after the U.S. announced Friday that it was pulling out of the agreement, citing Russian violations; Activist Starboard Value is said to have taken a stake in Bristol-Meyers, an interesting twist in the pending Celgene deal (Starboard's Jeff Smith also just became the Chairman of Papa John's); KKR is exploring a sale of its chip equipment co. Kokusai, according to the FT; in the Super Punt (er, Bowl rather), the Patriots covered the spread in a win over the Rams in the lowest scoring Super Bowl in history, book-ending Tom Brady's career (though he intends to continue to play) in the world championship (his first Super Bowl win was against the Rams, then of St. Louis).
Super Bowl commercial rundown:
We learned lots of beer is brewed with corn syrup (and that Game of Thrones's The Mountain isn't fond of a certain beer-branded Knight); props to Hyundai for reminding us that buying a car isn't so bad (when compared to jury duty or getting a root canal); its "OK/Okrrrr" to order Pepsi instead of Coke at a diner; The Dude is open to drinking Stella "Artoose", as is the former "most interesting man in the world" (ok, and Carrie Bradshaw doesn't always drink Cosmos); Amazon's Alexa may be more powerful than we think
Drug supply chain may see second-day effects from the HHS proposal that sent shares of CVS, CI, and UNH lower Friday. Analysts were broadly supportive of the stocks in light of the regulatory overhang
Energy stocks as WTI crude holds its gains above $55
Semiconductor names after ON Semiconductor's poor results Friday, combined with Sony and Panasonic both reporting weaker numbers in Asia
Food service names MIDD, USFD, PFGC after Sysco reports results shortly
Internet services names ANGI, MTCH, IAC, GRPN, SFLY, YELP and GRPN got initiated at Goldman Sachs, which is bullish on names with runway for growth, potential market leadership and those with "reasonable" valuations. Goldman is now buy rated on ANGI, YELP, neutral rated on IAC, GRPN, and adopts a sell rating for MTCH, SFLY.
Analysts see MTCH's valuation as "high" when compared to its growth, with an expectation for net adds at Tinder to slow (shares indicated down pre-market). SFLY is now sell rated due to the now "high market expectations" for the name; Goldman sees the risk-reward as "unfavorable."
Buy-rated ANGI should benefit from new demand from millennial home buyers and a shift toward online home services lead generation from offline. YELP's new products like Nowait, Request a Quote may "unlock" the value from reviews and traffic.
Schneider National is indicated to open higher after BofAML analyst Ken Hoexter double upgraded the logistics firm to buy from underperform. He writes that the multiple has been compressed in light of its 30% decline from its May peak. The analyst also highlights that SNDR beat JB Hunt for the 5th consecutive quarter when it came to operating margins.
Tick-by-Tick Guide to Today's Actionable Events
10:00am --Nov. Factory Orders, Durable Goods
4:00pm -- GOOGL earnings
4:01pm -- GILD earnings
4:30pm -- GOOGL earnings call