Software Update Aims to Keep Drones Away From Airports
(Bloomberg) -- Europe's airports, prisons and nuclear power stations should enjoy greater protection from drone incursions following an upgrade to mapping software used to stop the craft from overflying sensitive areas and entering airspace where they'd pose a threat to planes.
The technology, developed by Reading, England-based Altitude Angel, will depict airports as bow-tie shapes, with the flight-paths stretching from either side, while facilities such as jails and nuclear installations will be shown accurately rather than as mere blobs, according to a statement Tuesday.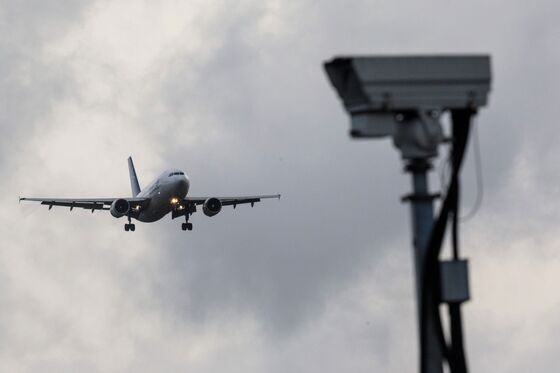 The enhanced mapping data, which covers 32 European countries, will be supplied to China's SZ DJI Technology Co., the world's largest drone maker. If a craft seeks to enter a restricted area it will be stopped from doing so, an automatic limitation of operations known as geofencing.
Preventing drone incursions has become an important issue for airports and air-traffic-control agencies worldwide after recent incidents at hubs including London Heathrow and Gatwick and Newark, New Jersey. Prisons worldwide are also struggling to stop drones from dropping drugs and weapons to inmates.
Geofencing won't by itself prevent such transgressions if drone operators are intent on illegal activity and manipulate the technology to override built-in curbs, an Altitude Angel spokesman said.