Best Buy Falls Most in Almost a Year as Growth Seen Cooling Off
(Bloomberg) -- Best Buy Co. is the latest retailer to be punished by investors concerned about future growth.
Shares of the electronics retailer fell as much as 8.4 percent on Tuesday, the most intraday in 11 months, as the company anticipates a period of slowdown for a key sales measure. Best Buy's projections for profit in the current quarter also fell short of analysts' estimates.
"The challenge for the company, in our view, is to maintain the strong top-line results as comparisons become more difficult, especially since the stock has already re-rated meaningfully over the past year," Scot Ciccarelli, an analyst with RBC Capital Markets, said in a research note on Tuesday. Best Buy's stock had increased by about 19 percent this year through Monday's close.
Related: Best Buy Sees Operating Income Increase in 4Q, Flat for the Year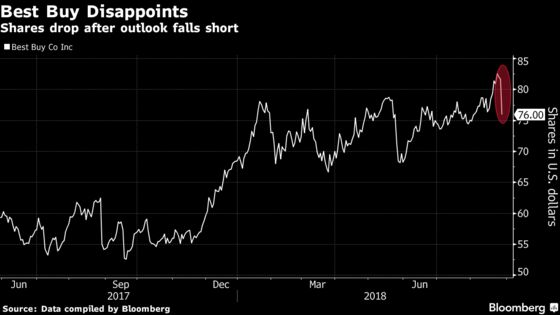 While it's been a solid summer for retail, buoyed by brisk economic growth, tax cuts and easing gas prices, results at companies like Best Buy and Macy's Inc. show that Wall Street sees the pendulum at risk of swinging back again. Best Buy's second-quarter profit, revenue and comparable-sales all outperformed estimates -- but investors zeroed in on the company's conservative projections.
The retailer expects a same-store sales increase of 2.5 percent to 3.5 percent this quarter. That would be the slowest gain in six quarters for that measure, a key performance metric for retailers. Earnings, meanwhile, will be 79 cents to 84 cents in the third quarter, excluding some items, the electronics retailer said Tuesday, trailing the 91-cent average of analysts' estimates.
Read More: Details on Best Buy's results and outlook
After bringing the electronics retailer back from the brink in recent years, Chief Executive Officer Hubert Joly is spending on initiatives to accelerate growth while fending off Amazon.com Inc. His next phase includes a tech support program that will service any gadget for an annual fee, no matter where it was bought, along with trained salespeople who make house calls to tease out more spending from consumers.
Transportation costs and expenses to roll out the new tech-support program have weighed on profit, Joly said on a call with reporters. The company compensated with better merchandise margins in the second quarter, but "we're not able to offset them to the same degree" in the current quarter, he said.
"The performance is not completely linear -- life is not linear," he said. He affirmed, however, that the change in expectations "is not related to a change in the trajectory in the business."
While the company reduced its adjusted profit forecast for the third quarter, it raised the full-year projection to $4.95 to $5.10 a share, up from a previous range off $4.80 to $5. Analysts estimate profit of $5.01 a share for the period.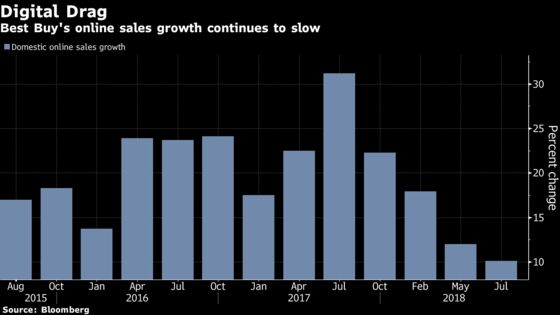 Same-store sales rose 6.2 percent in the second quarter ended Aug. 4, the electronics retailer said. Analysts had predicted 4.1 percent growth, according to Consensus Metrix.