Bernie's Back and Trump May Be Fine With It
Bernie Sanders' announcement of another presidential bid reopens questions about whether the schism in the Democratic Party that arguably helped send Donald Trump to the White House will return to haunt it in 2020.
The self-described democratic socialist waged a surprisingly competitive race against Hillary Clinton by championing progressive policies such as Medicare for all. He quickly demonstrated that he's still got an enthusiastic following.
Sanders, 77, raised more than $4 million yesterday from almost 150,000 individual donors, making him by far the top fundraiser among Democratic contenders on day one of their presidential bids.
That could spell trouble for less seasoned progressives – such as senators Cory Booker, Kamala Harris and Elizabeth Warren – who are competing for support from a similar slice of the electorate as they endeavor to win the party's nomination to challenge Trump.
Sanders' candidacy also revives concerns that the Democratic field – which is quickly swelling and could top 20 names – might stay split far into the nominating season, as the protracted Clinton-Sanders fight did in 2016.
A similar establishment-versus-progressive showdown this time carries an even more dangerous risk: hampering the Democrats' efforts to deny Trump a second term.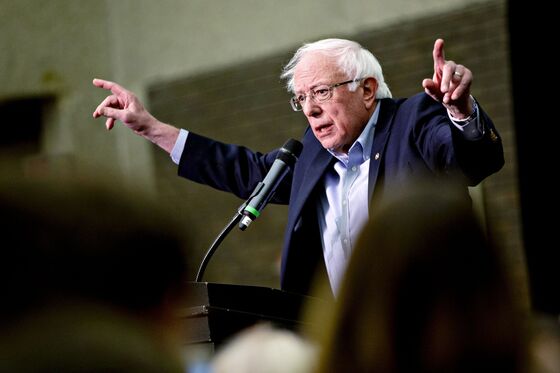 Deutsche worries | After the 2016 election, top Deutsche Bank executives were so concerned the Trump Organization might default on about $340 million of loans that they discussed extending repayment dates until after a possible second term ended, Gavin Finch, Steven Arons and Shahien Nasiripour report. Executives were leery of the potential public-relations disaster of going after a sitting president's assets. Trump's dealings with the bank face heightened scrutiny now that Democrats control the House.
Kim's carrot | One potential bargaining chip that Kim Jong Un may bring to his planned summit next week with Trump is an offer to dismantle a sprawling complex nestled in the mountains north of Pyongyang that for nearly four decades has been the focus of North Korea's nuclear ambitions. There's just one catch: The aging plutonium plant is no longer crucial to building Kim's arsenal, Youkyung Lee and Jon Herskovitz report.
Media threat | When Milan Jovanovic escaped a firebomb that engulfed his house, he became Serbia's latest journalist to come under attack in what opponents of President Aleksandar Vucic say is an increasingly hostile place for the press. The European Union aspirant has joined an unbroken strip of nations stretching from the Baltic to the Adriatic seas where populist parties have taken over state media and denounced critics as spreading lies.
Unforeseen consequences | When Zimbabweans celebrated wildly as their military ended the four-decade reign of Robert Mugabe just over a year ago, few expected the economic chaos and repression that followed. Perhaps they should have. Similar scenarios have played out across Africa and beyond – think Venezuela – when a strongman who's ruled for decades leaves the stage, giving new meaning to the old adage: Be careful what you wish for.
Amazon raid | Peru moved to shut down an illegal gold mine hub in the Amazon after years of expansion destroyed pristine rain forest and polluted rivers with mercury. The government sent 1,500 police and troops to the La Pampa area in a two-week crackdown aimed at eradicating mining from the area. La Pampa became Peru's biggest source of illegal gold in recent years, as criminal gangs financed operations on an industrial scale.
Trump plans to nominate Jeffrey Rosen as the new deputy attorney general as he continues to remodel the Justice Department amid the Russian election-meddling probe, Jennifer Jacobs reports. Rosen would replace Rod Rosenstein, who has had a rocky relationship with the president.

Prime Minister Theresa May is heading back to Brussels to meet with European Commission President Jean-Claude Juncker in a last-ditch attempt to save her Brexit deal, as businesses express growing alarm at the U.K.'s looming divorce from the European Union.
And finally … K-pop is becoming an unusual barometer of improving geopolitics in Asia. Chinese concert promoters are seeking permission for South Korean bands to perform in a sign of growing optimism about a thaw in relations. No major South Korean musician has performed in China since Seoul angered Beijing by agreeing to host a U.S. missile defense system in 2016. Now South Korean dramas are back on TV and Chinese streaming services are promoting K-pop songs.