Peru's Foodie-in-Chief Aims Mystery Wine at World Market
(Bloomberg) -- After helping bring Peruvian ceviche and pisco sour to the attention of the world, Bernardo Roca Rey has set his sights on the boutique wine market, and he's armed with a secret ingredient—a grape variety brought over by Spanish colonizers centuries ago and then forgotten.
The 73-year-old chair of Peru's gastronomy association began harvesting the grape in 2014 and produces 1,500 to 1,800 bottles a year of his dry red reserve wine Plenilunium de Luna Negra for the country's top restaurants. He's now seeking to expand production so he can start exporting it.
Roca Rey hopes Plenilunium will help change perceptions about Peru's wine-growing potential, similar to the way local chefs rediscovered the country's rich culinary heritage in the 1990s and turned the capital, Lima, into a magnet for foodies and home to some of the world's best restaurants. The vineyards at the center of this global expansion are about 130 kilometers (81 miles) south of Lima, where the mystery grape thrives on pre-Incan terraces, and further south in the desert of Paracas.
"I've had two big enemies in my life: those who thought Peruvian food wasn't any good, that it wasn't acceptable and couldn't compete with other cuisines. We broke that taboo," Roca Rey said. "And now I'm going to break the second one—that Peruvian wines can't be the best in the world."
Plenilunium is the highest-rated among the more than 188 Peruvian wines reviewed by users of the website vivino.com. The 2014 vintage scored 4.3, putting it in the top 4 percent of all wines in the world for that year. The 2015 vintage will go on sale later this year.
Roca Rey discovered the grape for his Plenilunium wine on a small farm in the Andes mountains of southern Peru, where the Spanish established the first vineyards in the Americas four centuries ago to produce church wine. With no registered name, Roca Rey called it Luna Negra—"black moon"—and planted the vine on 1,500-year-old terraces in the Lunahuana Valley.
Roca Rey said he spoke to other winegrowers about jointly investing in Luna Negra and other local grapes but was turned down. They told him varieties such as cabernet sauvignon were a safer bet.
With land in Lunahuana scarce and expensive—the vineyard is just 5 hectares—Roca Rey also bought 500 hectares of desert in Paracas and in 2012 planted vines on 25 hectares of sand, fed by water from an underground river. There he grows Luna Negra grapes to make rosé. He also produces a dry white using muscat of Alexandria grapes and a red using cabernet sauvignon and syrah.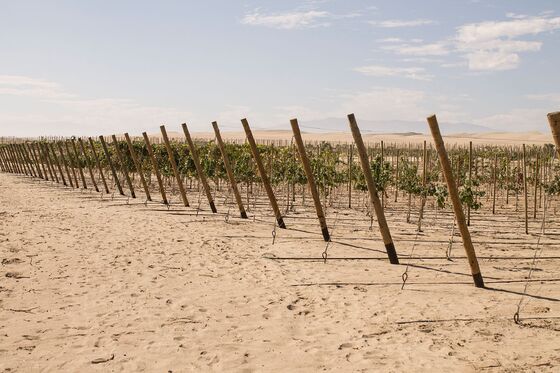 "They thought I was crazy to plant in the desert," Roca Rey said. "They all said it can't be done, that the Peruvian grape isn't good enough. So I decided to go it alone."
Gary Santa Cruz, sommelier at the Huaca Pucllana restaurant in Lima, added Plenilunium to his wine list in April. With similarities to wines made with malbec and shiraz grape varieties grown in South America, Plenilunium has gone well with diners, many of them tourists. While good-quality imported wines are often cheaper, the quality and variety of Peruvian wines on the list is growing as producers try to keep up with increased interest in the local cuisine, he said.
The restaurant sells bottles of Plenilunium for $58. Its 280 wines include 17 others from Peru, with prices starting at $26 and rising to $67 for Santiago Queirolo's Intipalka No. 1 and $55 for Tacama's Don Manuel Tannat.
"People come to Peru to try the food and want to try a local wine," Santa Cruz said. "We thought Plenilunium should be on our menu despite the price, because of its structure, intensity, and balance."
Roca Rey is looking for a partner to provide the financial and commercial support needed to expand production and distribute the wine overseas. He estimates that extending the desert vineyard in Paracas to 500 hectares would cost about $14 million. He recently sent samples to major winegrowers in Argentina, France and Spain and says he's willing to sell a majority stake in his company to a producer with a global reach that wants a foothold in Peru.
Roca Rey is a member of the Miro Quesada family that owns Grupo El Comercio, Peru's biggest media company, and sits on its consultative committee.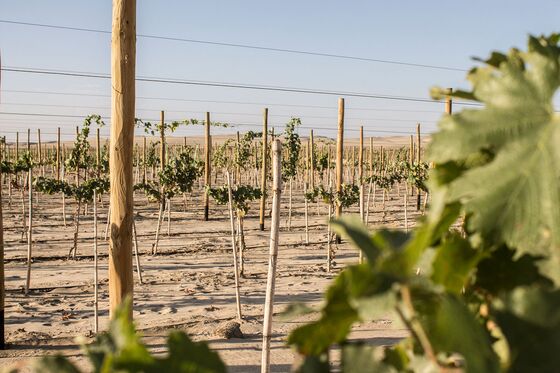 After studying chemistry and biology at universities in Lausanne, Switzerland, and Seville, Spain, he started publishing anonymous restaurant reviews in the family's El Comercio newspaper. He also began experimenting with culinary techniques that came to be known as novoandina cuisine. He later oversaw the publication of dozens of books on cooking and gastronomy, and in 2010 he was appointed deputy minister for cultural heritage and cultural industries.
Still, it won't be easy competing with regional powerhouses such as Chile and Argentina, said Jorge Llanos, director of the Institute of Wine and Pisco at the Universidad de San Martin de Porres in Lima. "If we had the ideal land and climate for that sort of viticulture, someone would have done it already," he said.
Peru exported $1.2 million of wine last year, a far cry from the $1.63 billion a year from neighboring Chile. And while about 90 Chilean wines collected medals at this year's annual wine contest organized by the Concours Mondial de Bruxelles, Peru hasn't won any since the 2016 edition.
Roca Rey isn't deterred. He sees the export of boutique wine as part of the next phase of Peru's gastronomic boom, one that will see the country exporting such produce as native potatoes and fresh fish—not just to Peruvian restaurants but also to markets and supermarkets worldwide.
"The second wave is when Peruvian products start to triumph," he said. "That's why I'm making this wine, to show that the sky's the limit."