Bentley Goes Its Own Way With New Hybrid as Porsche-Rimac Align
(Bloomberg) -- On July 6, Bentley unveiled the brand's second-ever plug-in vehicle, the Bentley Flying Spur Hybrid. The luxury sedan follows the Bentley Bentayga Hybrid SUV that debuted in 2015.
The new Flying Spur Hybrid uses a 410-horsepower V6 engine and an electric motor that produces the equivalent of 134 horsepower, a combined output that matches that of the conventional Flying Spur's V8 engine—although it's far quieter, with "a lot" fewer emissions, said Adrian Hallmark, Bentley's chairman and chief executive officer, during a video conference announcing the car.
It is the latest installment of Bentley's Beyond100 plan, which sees the brand offering exclusively plug-in hybrid or electric vehicles by 2026 and fully electric vehicles by 2030.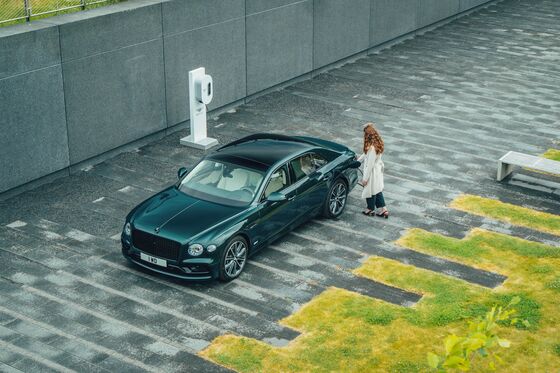 It also comes a day after fellow Volkswagen AG-owned brands announced an electric-luxury alliance that would propel them into the next decade as purveyors of ultra-elite supercars. Porsche and Rimac, a Croatian EV company in which Porsche holds a 24% stake, said they had set up a joint venture, called Bugatti-Rimac, separating Bugatti from VW Group control. Rimac will own the majority of the new entity, with a 55% stake, while Porsche will hold a 45% stake, plus its share of Rimac.
The arrangement signals a subtle stratification of VW Group's premium brands, dividing those aligned with Rimac, a group that includes Porsche and Bugatti, and those that seem likely to continue using EV components sourced primarily from VW, such as Audi and Bentley. Lamborghini may give its planned hybrid supercars the same platform that Audi uses for its electric e-Tron and Porsche uses for the electric Taycan, but the unit has announced no decision.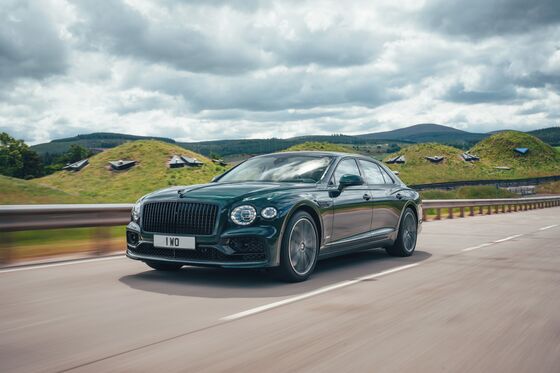 "We don't build hypercars, and we don't build sports cars [except for] the 'conventional' mid-200 mph performance cars that we offer today," Hallmark said when asked about Bugatti-Rimac. "Can I imagine ever collaborating with Porsche Rimac Bugatti on something different? Who knows. But there are no plans for that."  
Technology sharing at VW Group is a tangled affair. The new Flying Spur Hybrid and Bentayga Hybrid both use VW-developed V6 powertains; the Bentayga also shares a platform with the Audi Q5 and Q7 SUVs. And although Porsche and Audi use the same "Premium Platform Electric" for their electric sports cars, as well as some shared electric components from VW Group, Porsche is developing some of its own battery cells and packs via the subsidiary Cellforce Group, a joint venture established by Porsche and Customcells, a German battery technology company.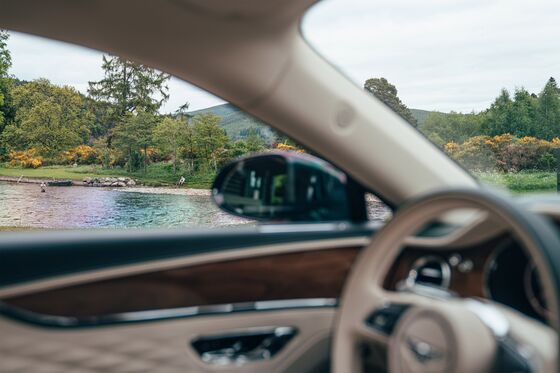 Meanwhile, VW executives have said they aim to make the company supremely dominant in the EV market by 2025. The push into electric vehicles has already propelled VW AG stock up more than 40% this year, handily beating Tesla. 
Of the Bentaygas sold last year—a group comprising nearly half of all Bentley vehicles sold worldwide—25% were hybrids, according to Bentley. Hallmark described the demand for hybrids as an "unprecedented" opportunity.  
"We are not complacent," Hallmark said in the most typically British phrasing of the day. "We are calmly paranoid."
A hybrid version of the muscular Continental coupe will launch by 2025. Deliveries of the Flying Spur Hybrid will begin by the end of 2021.