Beneteau CEO Predicts Yellow-Vest Disruption at Paris Boat Show
(Bloomberg) -- Beneteau SA, a French yacht manufacturer, expects the Paris boat show starting Saturday will be hit by the Yellow Vest protests that have rocked the euro region's second-biggest economy since mid-November.
Police have given their nod for the show organizers to stick to the opening date of Dec. 8, even though more Yellow Vest action is planned in Paris that day, Chief Executive Officer Herve Gastinel said by phone. The show, where Beneteau will have 84 vessels on display, takes place in Porte de Versailles, to the southwest of the city, which so far hasn't been affected by the violent protests that hit more central areas on previous Saturdays, he said.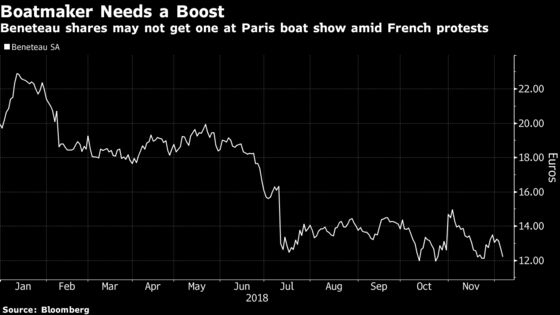 "There could be some disturbances," Gastinel said. "Not in terms of violence, I hope, but I'm thinking about foreign visitors that probably have been dissuaded from coming to Paris by all they saw on television of late."
Riots that broke out in Paris and other parts of the country in recent weeks, arising from protests against a hike in fuel prices, have damped a large part of the French economy. Customers have been blocked from accessing retailers such as Carrefour SA, while hotel operators have been hurt by cancellations. Police have even ordered the postponement of the Dec. 8 soccer match between Paris Saint-German and Montpellier in the French capital.
There may be fewer visitors to the boat show, which runs through Dec. 16, though the French make up the bulk of customers and have greater flexibility with their travel arrangements, Gastinel said.
"We remain confident: those who are ready to sign should still be coming," he said. "We have a larger risk of cancellation from the foreign clients, who may tells us they aren't coming to Paris and will come to the Dusseldorf show in January instead, meaning a potential lag in order-taking from these clients."
Beneteau shares have fallen 39 percent this year, giving the company a market value of about 1 billion euros ($1.13 billion).
Portzamparc analyst Arnaud Despre yesterday cited Beneteau as one of the brokerage's stock picks of the month. The company has benefited "from a year rich in innovations in its boats division" and "operational execution remains good," with the decline in of big-yachts' performance being "the only shadow in the picture," wrote the analyst, who has a buy rating on the stock.
Overall, "the trend remains robust" with regard to demand for sailboats and motorboats, Gastinel said. "Our order book has made slight progress compared to last year."