Beltone Fights Back After Investment Bank Suspended for IPO Flop
(Bloomberg) -- Egypt's decision to suspend the investment-banking unit of Beltone Financial Holding SAE is threatening to derail a number of deals and harm the country's efforts to attract investors, according to the group's chief executive officer.
The six-month halt to its operations may delay an industrial company's initial public offering that was set for November, and where Beltone is global coordinator and bookrunner, Bassem Azab said in an interview, declining to identify the company. Four other merger and acquisition deals are also at risk, he said, adding it could also have sweeping implications for a country looking to boost private-sector growth through state-asset sales.
The CEO is firing back at the Financial Regulatory Authority, which last month suspended the investment bank for six months for what it said were irregularities in the book building and initial public offering of Sarwa Capital SAE and investor complaints. The private investment company's shares plunged as much as 19 percent in the days following their debut.
"What if Sarwa went up?" Azab said in an interview. "Would the regulator have communicated what they called 'irregularities' and taken such immediate action based on what they stated as a 'preliminary review'?"
The decision seems to be based on the regulator's lack of understanding surrounding the private-placement process and absence of codified rules on book building, he said. The company had done nothing wrong in the book build or in the Sarwa IPO, Azab said. His position has been supported by the Egyptian Capital Market Association and Misr for Central Clearing Depository and Reviews, which deals with listings.
FRA Chairman Mohamed Omran didn't answer his phone or respond to a message seeking comment.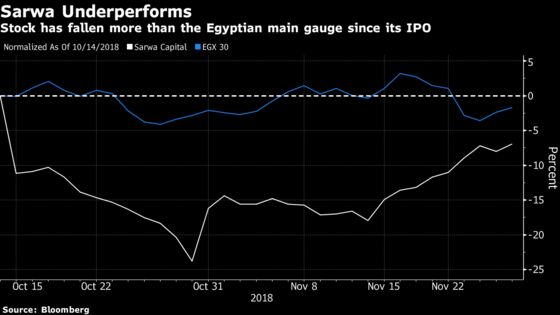 Allan Sandeep, director of research at Naeem Holding's brokerage unit, said that a key issue is that there has "always been a grey area" when it comes to book building in private placements in Egypt, and that that the numbers are routinely inflated.
"What the authorities are trying to do is to find out what the artificial demand was that was created," he said, adding that the current dispute would probably lead to new regulations. "This came as a reactive measure," he said, referring to the investigation. "It would've been better if it had come as a proactive measure."
Beltone has appealed the decision, which also included requiring its brokerage unit to boost its insurance to 50 million pounds ($2.8 million) for a year. A ruling in an Administrative Court case seeking the suspension of the decision is expected on Dec. 1 while a separate appeal with the market's grievances committee is to be decided on Dec. 10.
"There needs to be a stand for people to comprehend the process," Azab said, adding that the decision by the regulator was unheard of given it was based on a preliminary review.
Sarwa's shares closed 11 percent down to 6.54 pounds on its Oct. 15 entry, falling to as low as 5.61 pounds before rebounding. The stock was trading 0.6 percent down at 6.81 pounds as of 10:29 a.m. in Cairo closed on Thursday. Orascom Investment Holding, which owns 70 percent of Beltone and is headed by billionaire Naguib Sawiris, at the end of October filed a non-binding tender offer for a minority stake in Sarwa.
Azab attributed the drop after the IPO to broader global market conditions, including a plunge in the U.S. market in the days following Sarwa's debut.
Other key highlights from the interview:
Azab said that annual inflation, which is currently over 17 percent, and interest rates, need to come down if Egypt is to further encourage investments; he expected a turnaround in the second half of 2019.
Retail and consumer products industries expected to perform well given demand in the nation of nearly 100 million
70-80 percent of loans in Egypt are bank overdrafts, adding another disincentive on top of high interest rates for companies to fund further expansion
The government's plan to offer stakes in more 20 companies may not be the best approach -- offering the companies to strategic investors may yield a better outcome