Belgium Faces Winter Blackouts as Aging Reactors Falter
(Bloomberg) -- Belgium is bracing for power shortages this winter as the nation grapples with extended outages at its aging fleet of nuclear reactors.
The nation has secured extra capacity via a gas-fired power station in Vilvoorde, just outside of Brussels, and by measures including asking gas plants to increase their output to help ease the supply deficit, according to news agency Belga. Neighboring France, Germany and the Netherlands have agreed to send electricity through cross-border cables, according to Energy Minister Marie-Christine Marghem.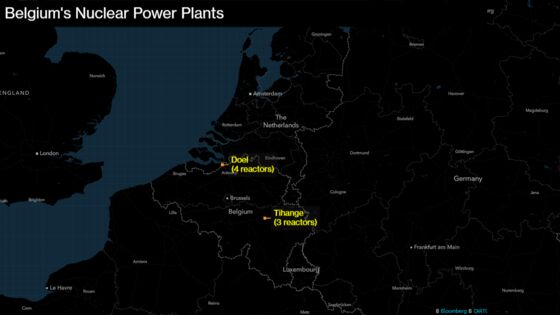 Belgium's troubles escalated when Engie SA said on Sept. 21 it would extend outages at its Tihange-2 and 3 reactors until next year, leaving a 2,000-megawatt supply gap this winter. It's not the first time the country has been close to blackouts. Safety concerns in 2013 and 2014 led to extended reactor halts that lasted 20 months and spanned two winters.
"Big units cause big problems when they're not available, and your system depends on them," said Jonas Rooze, an analyst at Bloomberg NEF. "If this starts to be a regular occurrence with life-extended reactors, it will really reduce the appetite for life extension with governments and regulators, who have to consider the risk to security of supply like this."
Belgium is unlikely to feel any supply gap until November, and that gives authorities time to resolve the situation, Marghem told journalists on Monday. The minister in September ruled a strategic power reserve wouldn't be needed for this winter.
Belgium's Capacity Deficit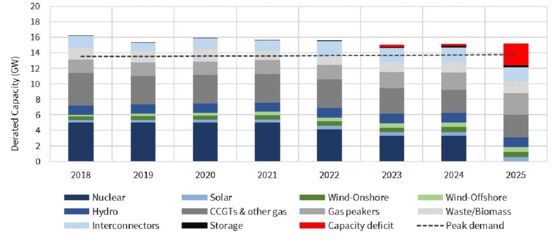 Prices are responding. Electricity for delivery during a one-hour slot on Monday jumped as high as 411 euros ($484) a megawatt-hour, compared with an average of 60.19 euros over the past year. Power imports from France and the Netherlands rose to a record on Tuesday, according to De Standaard newspaper. The maximum import capacity this winter is 5,500 megawatts, the newspaper reported, citing grid operator Elia System Operator AS.
Only one of the nation's seven reactors will be working in November, with others closed for servicing. Engie delayed the start of its Tihange-2 unit by seven months until May 31 and prolonged the outage at Tihange-3 by five months to March 1. This is because the company needs more time to agree with the nuclear regulator on ways to repair the roofs of buildings in the non-nuclear part of the plants, after finding deterioration in the concrete.
Click here to read more about how the outages will impact Engie
The Belgian authorities will be hoping that it isn't a chilly winter. A prolonged cold snap in Europe would drive up demand for heating and limit the amount of power available to export to Belgium, since neighboring countries would prioritize serving their own residents first.
"European markets have evolved and become more regionally integrated, then markets have become more comfortable with the growing role of imports," said Bruno Brunetti, managing director of global power analysis at S&P Global Platts. "As reserve margins get thinner all over Europe and a number of countries also replace aging units, then imports cannot be taken as granted anymore."
In previous years, grid manager Elia made plans for rolling power cuts that would reduce demand. The grid operator wasn't immediately available to comment on its plans for this winter.
Belgium plans to phase out nuclear power by 2025. The setback at the Tihange units is the latest of Engie's challenges with several of its atomic plants, which started commercial operation between 1975 and 1985 and have been dogged by safety issues in recent years.
Without plans to replace the capacity, Belgium could be heading toward a supply crunch. The nuclear closures and "the simultaneous closure of some old gas-based facilities" will lead to a power generation shortfall of 3.6 gigawatts, according to a report by GlobalData, a London-based analysis and data provider.
Some of this capacity can be replaced with renewables. But Belgium's dense population limits the amount of land available to develop wind and solar farms.
Belgium isn't the only nation struggling to keep its older reactors safe:
Britain's nuclear fleet is reaching the end of its life. The plants, which supply about 20 percent of electricity, are scheduled to either end generation or be decommissioned between 2023 and 2030, according to operator Electricite de France SA

EDF's Hunterston B-7 unit has been halted since March for safety checks and the utility in May confirmed the presence of new "keyway root cracks" in the reactor core at a "slightly higher rate than modeled"

In France, the regulator discovered anomalies in some components that triggered prolonged halts at 18 reactors in 2016 and 2017, denting earnings for EDF and rattling power markets for months. A more powerful atomic plant in Flamanville set for completion by the end of next year has been beset by quality issues, most lately on key pipe welds