Beijing Won't Brook Corporate Competition in Spying
(Bloomberg Opinion) -- A 23 percent plunge in Meitu Inc.'s shares in just a day and a half serves as a stark warning to Chinese tech companies: Don't compete with Beijing.
China's Consumer Association on Wednesday issued a statement saying that 91 percent of the apps it tested were suspected of collecting too much data. Meitu's photo-editing app, as well as products from NetEase Inc. and China Mobile Ltd., are among those in the firing line.
A financial-services app reasonably could be expected to gather phone numbers and email addresses. It wouldn't be a stretch for a travel or maps app to access location.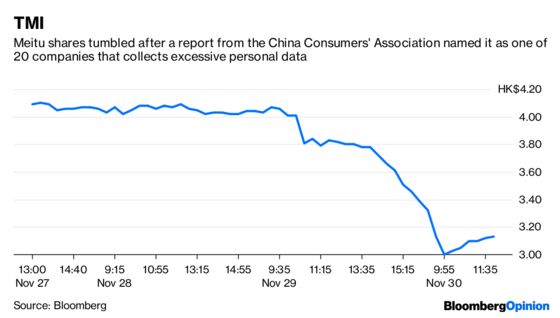 But why the heck does an app for lengthening your legs or smoothing your skin need location data or a list of contacts, let alone financial information? That's pretty much the issue raised in the CCA's lengthy report. The consumer body alleged that 59 percent of apps excessively collected data on users' whereabouts, while 23 percent stepped over the mark in gathering identification details.
Meitu's XiuXiu photo-editing app was only one of 20 case studies outlined in the report, but it came at a terrible time for the company.
That divestiture leaves Meitu with 83 percent of revenue stripped way, meaning that it has to find ways to monetize the millions of users who want to look pretty. Sure, you can try to get consumers to pay for your product, but that's rarely a winning strategy. The alternative is to sell something that corporations want:  data. Which necessitates collecting as much as you can.
The China Consumer Association is kind of like Consumer Reports in the U.S. or Choice in Australia. It's an NGO without the N – because it's China.
It's without any hint of irony that the report cited a New York Times story on data collection at Facebook Inc. and Cambridge Analytica as evidence of concerns over information protection. Even Ant Financial Services Co.'s sesame credit system received a rap on the knuckles for collating personal data that's not in the spirit of national standards.
Let's be clear. It's not that Beijing really cares about the protection of privacy or personal data. It's well understood that platoons of domestic security personnel, acres of data centers and thousands of security cameras have been deployed to watch, analyze and react to anything unsavory (Hint: Don't try a web search for Winnie the Pooh).
This column does not necessarily reflect the opinion of the editorial board or Bloomberg LP and its owners.
Tim Culpan is a Bloomberg Opinion columnist covering technology. He previously covered technology for Bloomberg News.