Chinese Developer Stocks Jump Most in a Month: Evergrande Update
(Bloomberg) -- China's developer stocks rallied on Tuesday, with traders struggling to pin down a catalyst for the gains. 
The CSI 300 Real Estate Index of mainland-listed shares climbed 4.5%, its best gain in a month. Poly Developments & Holdings Group Co. closed at its highest level since March. In Hong Kong, Sunac China Holdings Ltd. jumped as much as 9.9% after sinking by a record on Monday.
Developers on mainland and Hong Kong bourses have diverged in recent weeks, with typically stronger firms listed in Shanghai and Shenzhen outperforming. A move by authorities encouraging lenders to fund acquisitions of projects held by distressed developers may benefit larger, often state-owned firms most. A Bloomberg Intelligence gauge of Chinese property companies mostly traded in Hong Kong closed on Monday near a five-year low before rising 3.4% on Tuesday.
Shimao Group Holdings Ltd. was downgraded by S&P Global to B+ from BB+, following cuts by Fitch Ratings and Moody's Investors Service last week.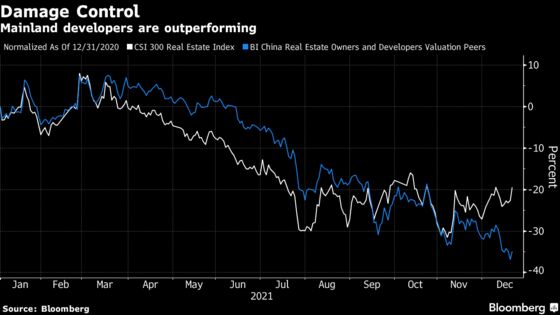 Golden Wheel Tiandi Proposes Restructuring of Notes Due 22, 23
Fantasia Extends Maturity Date for RMB949m of 7.5% Bonds to 2023
Evergrande Land Seized by Chengdu City on Lack of Development
China Chengxin Cuts Evergrande Onshore Unit Rating to B From BB
Shinsun Cut to B3 by Moody's; Ratings on Review for Further Cut
Shimao Group Downgraded to B+ by S&P (4:04 p.m. HK)
S&P lowered its long-term issuer credit rating on Shimao Group to B+ from BB+.
The outlook remains negative and reflects the view that Shimao's liquidity will remain under pressure amid weaker funding access and slowing sales, S&P said in a statement. Shimao should be able to manage its near-term maturities with internal resources, S&P said.