Behind U.K.'s Golden Era, China Giant Threatened Shock Waves
(Bloomberg) -- Just four months before former U.K. Prime Minister David Cameron welcomed President Xi Jinping into his local pub and posed with him for a selfie at Manchester City's soccer stadium, a Chinese defense contractor sent the British government a warning.
A regulator's initial decision to block support for its solar project would jeopardize billions of additional investments in Britain, Aviation Industry Corp. said. In a letter disclosed for the first time last week as part of a U.K. trial, the state-owned company said the failure of its investment would cause a "scandal," and hurt the relationship between the two countries.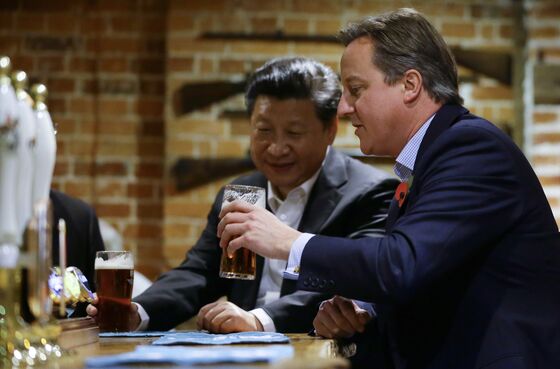 The note was sent to both the U.K.'s energy ministry and regulator in May 2015, months before Xi was to make his first official visit to herald a new "golden era" between the countries. The letter was disclosed in a lawsuit brought by a British businessman who said that Avic's local unit reneged on a deal to pay him for persuading the regulator to provide the government subsidy.
"Such a scandal would create significant shock waves through the China investment market and may prevent many billions of pounds being invested from China into the U.K.," said Mike Lou, managing director of Avic International Corp. U.K.
The letter casts a rare light on the behind-the-scenes lobbying from a major Chinese government-controlled firm at a time when Cameron made attracting Chinese trade and investment a focus of his premiership. It's a priority that has continued under his successor Theresa May, whose government has sent the chancellor to China five times in the last two years.
Avic was leading the country's investments in solar in the U.K., before looking at further opportunities in the energy, infrastructure and real-estate space, Lou wrote. The executive needed regulator Ofgem to approve a 10 million-pound ($12.9 million) renewable certificate for its 18 megawatt solar project -- a site that would power 4,000 homes.
"We spent money, we got connected on time, we just missed out on the paperwork," Li Fan, a deputy director at Avic U.K., said in court. "We meant that scandal, nothing else." Fan, who is also Lou's wife, said the company submitted the application a few hours late.
British businessman Michael O'Neill disclosed the letter as part of his claim that Avic saw the Ofgem approval process as a political issue that he could solve. Avic U.K. has denied that and said in an emailed statement that the whole approach was simply conducted as a legal process.
After initially telling Avic's lawyers it wasn't likely to approve the company's Rolleston solar project in May, Ofgem later signed off on the grant in September, the court documents show. A spokesman for the energy regulator declined to comment on the litigation except to confirm that the project had been accredited.
Neither the U.K. government nor Ofgem is facing a legal claim in the lawsuit.
Under Cameron, Chinese investment in the U.K. culminated in a controversial deal to allow a Chinese nuclear developer to help fund a power station at Hinkley Point on the coast in southwest England.
State-owned Avic manufactures military and civil jets and is also engaged in industrial parts production and has an energy business. Its new energy unit consists of Lithium-ion battery productions and solar and wind power productions.
At the time the letter was sent, Avic U.K. had invested a total of 18.7 million pounds in the solar project -- which was at risk.
"This latter experience will not be received well in Beijing and may impact on China's interest in future major investment in the U.K.," Lou said.
The case is Michael O'Neill and Avic International Corp. (U.K.) Ltd., High Court of Justice, Queen's Bench Division, case no. HQ17X02869