Beaten-Down Banks Face Danger They Won't Bounce Back in 2019
(Bloomberg) -- Bank stocks underperformed the broader market in 2018, besieged by disappointing loan growth, tougher competition for lending, the need to pay more for deposits, and worries about an economic slowdown and deteriorating credit. The big question for next year is whether they've fallen far enough.
Some analysts cut recommendations on bank shares in mid-December, with analysts at firms including Keefe Bruyette & Woods Inc., Morgan Stanley and Atlantic Equities giving dour outlooks. Goldman Sachs Group Inc. shares have been hit particularly hard by concern about a Malaysian debt scandal, losing 34 percent this year through mid-day trading on Monday.
"It's been a tough year for banks," KBW chief equities strategist Frederick Cannon said in a phone interview, as "the rate trade ended in 2018," with big benefits from rates lifting off zero shifting instead to pain from rising deposit costs. Next year, Cannon sees "few obvious catalysts" to boost stock prices.
The best scenario for bank shares may be a "resurgence" from valuation lows sometime in 2019, if there's a soft landing for the economy, he said. Earning results will be key, as will clarity on credit trends and on whether the Federal Reserve halts rate hikes. "Banks will do well if the Fed pauses," Cannon said, particularly with discounts seemingly linked to credit risks.
Cannon isn't too worried about risks from political swings in the U.S., as his research shows bank stock moves haven't been correlated with political turmoil, including, for example, during the late 1960s. "The bigger risk is an economic slowdown," he said, with trade conflicts and Brexit issues other potent threats.
The broad KBW Bank Index and the narrower KBW Regional Bank index have both declined about 17 percent so far this year through early Tuesday trading, versus a 4 percent drop for the S&P 500 Index. Bellwether Bank of America Corp. fell 16 percent year-to-date, investor favorite JPMorgan Chase & Co. was down 6.8 percent, and penalty-box bank Wells Fargo & Co. was down 23 percent. The KBW Bank Index rose 0.8 percent early on Tuesday, rebounding along with the rest of the market.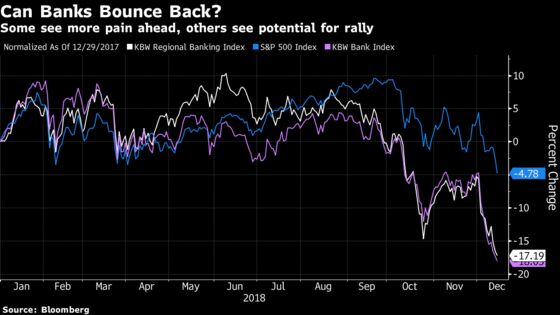 Here's what some analysts are saying:
Kleinhanzl shifted his sector recommendation on the biggest banks to market weight from overweight, and turned cautious on the coming year. There aren't enough "positive catalysts" ahead, other than "simply having a discounted valuation," to lift the group after underperformance driven by disappointing loan growth and macroeconomic risks, Kleinhanzl wrote in a note. Shares may keep dropping, with cuts to consensus estimates and credit worries unlikely to abate.
Cassidy in a mid-December note wrote that "record profits are on the horizon" for U.S. banks, with this year's "respite" potentially positioning banks well for next year, "fueled by a strong economic backdrop, a supportive regulatory environment, improving loan growth, and increased M&A activity."
Credit Suisse, Susan Roth Katzke
Large banks may find a "normal" recession -- if one comes -- manageable, as they're "far better prepared today," due to post-crisis regulations, including more capital and liquidity, and the stress testing process.
Katzke adds that "no two cycles are the same; back to basics on capital levels alone suggests this time should be different for our banks." She puts downside scenario risk at just under 20 percent, with 30 percent-plus upside in recommended stocks: JPMorgan, Bank of America, Morgan Stanley, Goldman Sachs, and Citigroup. Even so, she concedes that "fear of a turn in the cycle" may limit share price performance.
Earlier in December, Katzke turned a bit more bearish on banks, cutting price targets. Credit Suisse added to its "gray sky" valuation scenario for big banks, moving to 25% from 15%, and reduced its "blue sky" weighting to 25% from 35%.
Mayo wrote last Wednesday that banks may be set for record earnings this year and next, even with an "A-B-Cs" list of possible macro risks ranging from Amazon to China, to oil and real estate, all the way down to z is for zombies.
"The worst sentiment in bank stocks since the financial crisis" has been "leading to recession-like prices but without a recession." Mayo thinks a recession is "unlikely" in 2019, further aiding the prospects for financial companies.
Deutsche Bank, Matt O'Connor
Bank stocks trading near post-crisis lows are likely oversold, as a meaningful economic slowdown in the next six-to-nine months is unlikely.
Morgan Stanley, Ken Zerbe
"The carefree days of rising rates and pristine credit quality could be coming to an end," Zerbe wrote. "We cannot ignore the growing risk of a bear credit market next year preceding a recession as well as the negative impact of weaker economic growth," both on credit quality and as a driver of slower loan growth.
Regional bank share valuations are "highly attractive," with SunTrust's covered stocks tumbling so far this year, while the economy is still healthy and the banking industry's "fundamental outlook remains solid."
Earnings-per-share growth may drop slightly next year, and in 2020, on slower loan growth, flatter net interest margins, and slowly rising credit costs. Even so, these dynamics are likely "more than factored into valuations," with an inverted yield curve driving "more negative investor sentiment than fundamental pressure."