Short Bets Mount on Tencent-Backed China Food Delivery Giant
(Bloomberg) -- Life as a listed company hasn't been easy for Meituan Dianping, even with the backing of Tencent Holdings Ltd., Goldman Sachs Group Inc. and bullish analysts.
Short interest has climbed on the food delivery firm since its debut in Hong Kong seven weeks ago, and its shares slumped 26 percent last month alone, pressured by a global technology rout and continued weakness in Chinese markets. As the slide gathered pace, Goldman spent around $540 million buying Meituan stock in its role as stabilization manager.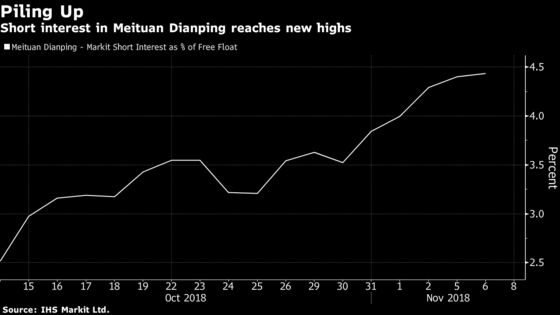 Short interest was at 4.4 percent of Meituan's free float as of Wednesday, more than double the market-cap weighted average of companies traded in Hong Kong, according to the latest data from IHS Markit Ltd. Still, analysts tracked by Bloomberg all have buy or equivalent ratings on the company, in which Tencent is a cornerstone investor. Meituan declined to comment on why bearish positions are building.
Short sellers may be looking at near-term risks as "markets are weak, there's a trade war, there are macro economic concerns and there's intensifying competition from Alibaba, which is also looking at expanding its market share in the food delivery business," Bloomberg Intelligence analyst Vey-sern Ling said. "The timing is unfortunate because the entire market is going down as well."
The Hang Seng Index has fallen more than 20 percent from a January peak, with heavyweight Tencent poised for its worst year on record. The U.S.-China trade dispute has soured sentiment and attracted bearish wagers. Short-sell turnover on the city's main board last week reached the highest since May, with Great Wall Motor Co. and BYD Co. among the most shorted.
Enthusiasm for Meituan wasn't that high to begin with -- its IPO was met with a muted response from retail investors, people with knowledge of the matter said at the time. Even after last week's 16 percent rally with short-squeeze driven gains in the broader market, Meituan is still down 20 percent from its HK$69 listing price. The stock tumbled 9.8 percent Friday morning.
The Beijing-based company has spent billions to get a firm foothold in China's food delivery and online services industry, where it's up against the likes of Alibaba and ride-hailer Didi Chuxing. In September, Meituan said its first-half loss more than doubled to $4.2 billion. Analysts see losses continuing next year, according to data compiled by Bloomberg.