$250 Billion Becomes Magic Number for BB&T-SunTrust Marriage
(Bloomberg) -- BB&T Corp. and SunTrust Banks Inc. are both approaching a key regulatory threshold that will likely subject them to tougher oversight. That may be why the banks decided to cross it together.
The lenders' growth means both were getting very close to having $250 billion in assets. At that level, they will miss out on a number of deregulatory measures being pursued by the Federal Reserve, such as eased stress-test requirements and not having to stockpile as many liquid assets.
So if you can't get relief, you might as well take advantage of the synergies and cost savings that typically come with getting bigger.
The Fed, as part of President Donald Trump's rule-cutting agenda, has proposed splitting the nation's biggest banks into five regulatory buckets. At the top of the pack are banks such as JPMorgan Chase & Co. and Citigroup Inc. that face the most stringent regulations, followed by a secondary category of firms with more than $700 billion of assets.
At about $440 billion, the combined BB&T and SunTrust will be far below that threshold, but still too big to get the eased oversight of banks with between $100 billion and $250 billion of assets.
The Fed's proposed categories, which haven't been finalized, "made it easier for banks to grow to anywhere in the" $250 billion to $700 billion range, Capital Alpha Partners analyst Ian Katz wrote in a Thursday note. "The central bank is aware that raising the thresholds for regulatory requirements could inspire banks to grow."
BB&T's assets have grown by 7.5 percent in the last three years to $226 billion. At that same pace, the bank would reach $250 billion in about four years. SunTrust has grown 13 percent in the same period and would reach that threshold in about three years if growth continued at the same speed.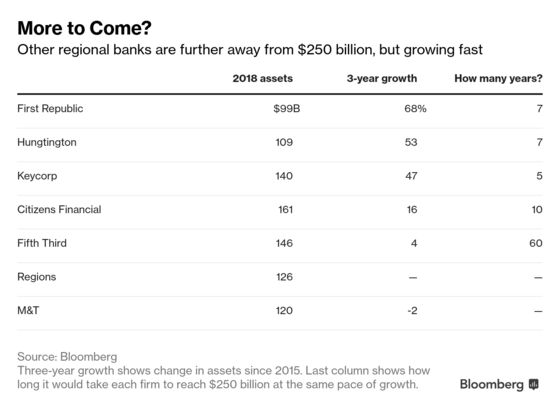 BB&T and SunTrust are a bit unique in how close they were to the new regulatory threshold. Citizens Financial Group Inc., the next regional bank ranked by assets, would need to grow almost 60 percent to get to it. At its recent pace of growth, that would take another 10 years.
"By choosing to define their own fate -- not let the Fed do it for them -- BB&T and SunTrust are redefining U.S. regional banking," said Karen Petrou, a manager partner at Federal Financial Analytics in Washington.
The Fed and Federal Deposit Insurance Corp. will have a say in the merger. Among factors the regulators might examine are the resulting competitive landscape, the potential impact on the health of the financial system and the new institution's ability to comply with various rules, including measures designed to prevent money laundering.
"We will evaluate the application against the relevant statutory factors when we receive it," the Fed, whose Washington-based board has to approve the deal, said in a statement.
Fed Vice Chairman for Supervision Randal Quarles said in congressional testimony last year that the agency is trying to speed up the approval process for applications.
Applications for mergers and acquisitions that have received adverse public comments -- fairly typical in large, complex tie ups -- have been taking an average of about 117 days, according to the latest Fed data from 2018. Generally, about 6 percent of merger applications are eventually withdrawn.