Bayer Shares Slide as Legal Troubles Mount Over Herbicides
(Bloomberg) -- Bayer AG shares continued their slide after the company failed to block California's move to list the herbicide Roundup as a known carcinogen.
The California Supreme Court declined on Wednesday to hear arguments by Monsanto, recently acquired by Bayer, as to why Roundup, the world's most widely used weed killer, doesn't belong on the state's list of chemicals known to cause cancer. The California Court of Appeal, Fifth District, had rejected the U.S. company's arguments in April.
Bayer's $63 billion purchase of Monsanto has opened the German drugmaker up to legal risks. A San Francisco state jury last week awarded a former groundskeeper $289 million on his claim that exposure to Roundup caused his cancer, and thousands of additional cases are pending. Meanwhile, Bayer is also facing lawsuits in the U.S. over dicamba, another herbicide in Monsanto's portfolio.
"The perception is that a huge wave of lawsuits and penalty payments are rolling toward Bayer," said Markus Mayer, an analyst with Baader Bank AG. "This sentiment is right now what you see in the share price."
Bayer's shares dropped as much as 6.5 percent in Frankfurt. The company has lost about 16 billion euros ($18 billion) in market value this week, since the jury's award in the Roundup case.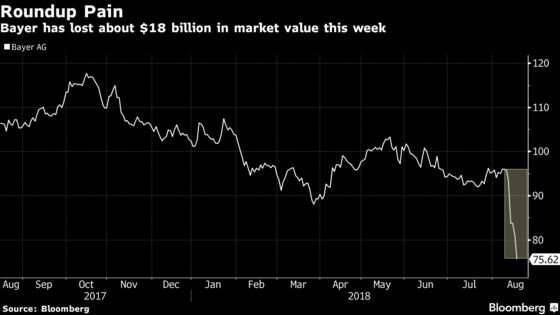 The German company has taken a swift hit after acquiring Monsanto to secure a place atop the quickly consolidating market for seeds and crop chemicals alongside China National Chemical Corp. and DowDuPont Inc. Farmers in Arkansas and South Dakota filed class-action lawsuits in St. Louis against Monsanto, seeking compensation for damages they claim are linked to Monsanto's herbicide dicamba, German business newspaper WirtschaftsWoche said on Thursday. The lawsuits had been previously reported in the U.S.
Like Roundup, dicamba is sprayed on fields that have been planted with seeds that are resistant to the chemical. Farmers say it has harmed adjacent crops after drifting over from fields planted with the resistant seeds. BASF SE and DowDuPont also make dicamba.
Glyphosate, the main chemical in Roundup, was found in popular oat cereals, whole oats and breakfast bars in an Environmental Working Group report issued on Wednesday, the New York Times reported. The organization found the chemical in 43 of the 45 samples it tested from conventionally grown oats, and in five of the 16 samples it tested from organic products.
A spokesman from Bayer didn't immediately return a call and email seeking comment. The company has said that "the weight of scientific evidence," along with real-world and regulatory experience show that glyphosate is safe.