Battery Metal Bulls Fear China's Big Disrupter to Hit Nickel
(Bloomberg) -- Commodity traders expect nickel, the silvery-white metal used to make stainless steel, to be a winner from the electric-vehicle revolution -- it's a key component of batteries.
But a Chinese metals giant with a knack of upending markets is threatening to spoil the party. Tsingshan Holding Group announced last month it's building an Indonesian plant to produce nickel-cobalt salts for the battery market.
Transforming the Southeast Asian nation's low-grade deposits into "class 1" metal -- the equivalent of turning cheap table wine into a prized vintage -- would disrupt the bullish narrative that's helped shield nickel from a broader selloff in metal markets this year.
Despite the challenges -- adapting technology previously considered uneconomic -- analysts are already moderating their price projections, mindful of Tsingshan's record as a nickel market disrupter.
"The general fear is that if they can make it work, the nickel price won't really need to go much higher," said Colin Hamilton, managing director for commodities research at BMO Capital Markets Ltd., who estimates that a price of $14,000 a metric ton could justify further investment in such Indonesian projects. "If it wasn't Tsingshan doing it, people would be discounting it a lot more heavily."
Tsingshan declined to comment.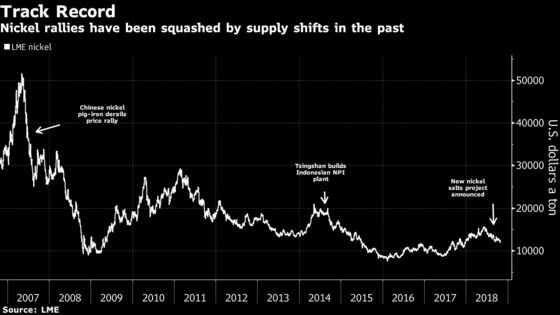 The first time the firm shook the market was in the mid-2000s, with the mass adoption of nickel pig-iron by Tsingshan and other Chinese companies as a low-cost alternative to refined nickel, which had rallied to all-time highs above $50,000 a ton. That helped to precipitate an 80 percent slump in prices between 2007 and 2008.
This decade, Tsingshan was again instrumental in pegging back prices by setting up low-cost nickel pig-iron plants near to ore deposits in Indonesia. Now, it's looking to use High Pressure Acid Leaching technology in a $700 million project that would cost $14,000 per ton of nickel capacity. That's less than a quarter of the cost of recent HPAL projects, according to consultancy CRU Group.
Understandably, that's causing nervousness among nickel bulls.
"It's the third wave of disappointment for nickel," David Wilson, a metals strategist at Freepoint Commodities, said by phone from London. "If it works, they'll do it quicker and cheaper than anyone expects."
Tsingshan has also sent shockwaves through the steel industry in the past decade as it emerged as the world's leading producer of stainless steel, which accounts for about three-quarters of global nickel demand today. The key question now is whether it can repeat those successes as a low-cost supplier to battery makers.
"Tsingshan has worked miracles in stainless steel," George Cheveley, a portfolio manager at Investec Asset Management, said by phone from London. "People are taking it seriously."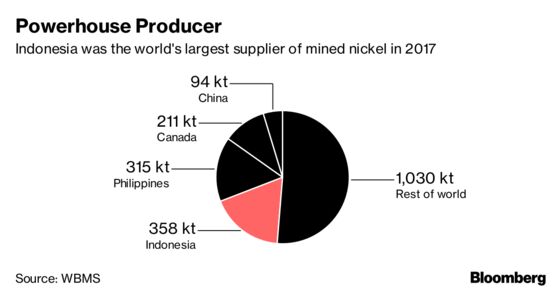 To be sure, there are doubts about whether Tsingshan can crack the technical challenges that have plagued rival producers. In a note on Thursday, analysts at Wood Mackenzie also expressed skepticism about its ambition of bringing the project online within 12 months.
Most analysts remain bullish on the outlook for nickel as spot prices extend losses below $12,000 a ton on the London Metal Exchange. However, even Goldman Sachs Group Inc. -- which forecasts an average price of $17,250 a ton next year -- notes that Tsingshan's project has dampened the bullish outlook.
The metal dropped 0.5 percent to $11,845 a ton on Monday and headed for a fifth monthly decline, the worst run since early 2016.
Red Door Research Managing Director Jim Lennon, who's been analyzing the market for nearly 40 years, said that if Tsingshan's experiment in Indonesia proves successful, his expectation for long-term nickel prices would drop to the lower end of the market's consensus range of $15,000 to $20,000 a ton.
Even so, Tsingshan's venture may eventually hold a silver lining for the industry by ensuring battery-makers have the raw materials to fuel the electric-vehicle revolution, he said.
"Supply creates its own demand," Lennon said. "If the supply is there, the auto industry is going to push ahead very rapidly."