Battered by the Lira, Turkish Firms Face Catch-22 on Rates
(Bloomberg) -- An interest rate hike by Turkey's central bank on Thursday might just be the lesser of two evils for the country's beleaguered companies.
On the one hand, a steep rate increase could stem the slide in the lira that has boosted dollar-debt costs by more than 40 percent this year. On the other, pausing would spare the already bruised balance sheets of companies, which have had to contend with a near doubling in local borrowing costs.
"Unfortunately, there is only a bad scenario and a worse scenario for the Turkish corporate sector," said Inan Demir, an emerging-markets economist at Nomura International Plc in London. "If the central bank delivers a convincing rate hike, the currency will stabilize. The net effect of a strong rate hike is more positive for companies."
The lira's plunge against the dollar in 2018, second only to Argentina's peso, means policy makers have little choice. The central bank will probably increase its benchmark one-week repo rate by 325 basis points to 21 percent at its monetary policy committee meeting this week, according to the median of 23 estimates in a Bloomberg survey. Nomura's Demir says a 575 basis-point increase is needed to bolster the currency.
The lira rallied 1.2 percent to 6.3562 per dollar as of 3:57 p.m. in Istanbul on Wednesday, extending gains this month to 2.9 percent, mainly in anticipation of an interest rate hike. Still, the central bank is unlikely to do enough to stem the currency's decline this week, even if it meets expectations for a rate increase of 325 basis points, according to Standard Chartered Plc.
Higher borrowing costs, the lira's depreciation and a spike in inflation to 15-year highs are starting to bite, according to a business group in the town of Gebze, the nation's third-biggest industrial zone with more than 230,000 workers and thousands of companies.
"We've been hearing that some of our member companies are not even able to pay their power bills," said Nail Ciler, head of the Gebze Chamber of Commerce. "If this goes on, and no comprehensive solution backed by government support is found, we may see mass redundancies."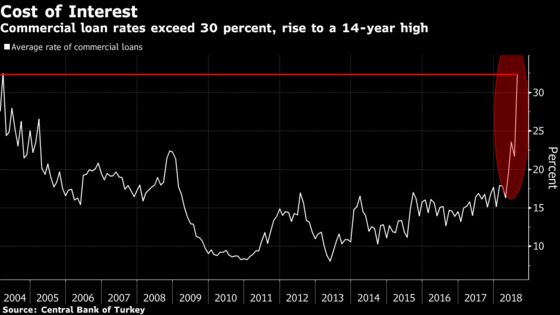 The latest rout in the currency followed a row with the U.S. over an American pastor held in Turkey for almost two years on espionage and terrorism-related charges. That added to investor concerns about President Recep Tayyip Erdogan's unconventional economic views and opposition to interest-rate increases.
Companies have come in their droves to reorganize their debt and extend loan maturities, including $6.5 billion by Yildiz Holding AS, the producer of Godiva chocolates and McVitie's biscuits, and $2.5 billion by Salt Bae owner Dogus Holding AS. While most companies are able to handle refinancing risks over the next 12 to 18 months, the slowing economy and tighter liquidity conditions, could cause corporate access to loans to reduce, Moody's Investors Service said in a report on Tuesday.
"A sequential jump of more than 7 percent in bad debt in June and the rising number of restructuring requests prove the weak lira is taking its toll on non-financial corporates," said Bloomberg Intelligence analyst Tomasz Noetzel. These companies have more than $200 billion of unhedged foreign-exchange positions, which might make it difficult for banks to roll over about $100 billion of debt coming due in the next 12 months, he said.
"The biggest problem is in companies that import goods with foreign currencies and sell products in Turkish liras," said Ciler of the Gebze chamber. "They just can't cope with the mismatch."