Tobacco Shares Plunge on Possible U.S. Ban of Menthol Cigarettes
(Bloomberg) -- Altria Group Inc., the maker of Marlboro, fell on news of a possible ban on menthol cigarettes in the U.S., which account for about 20 percent on the company's profit.
A senior U.S. Food and Drug Administration official said last week that the agency is looking at restricting menthol in traditional cigarettes. Doing so would be a step toward eliminating or tightly limiting use of the popular cigarette flavor, something the FDA has been considering for some time. More aggressive regulation of nicotine has been a major priority for Commissioner Scott Gottlieb.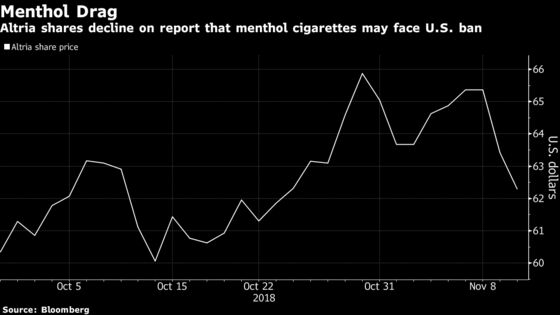 An Altria spokesman said Monday it was premature to comment absent an FDA announcement. Shares of the company, which makes Marlboro for the U.S. market, fell as much as 3.6 percent to $61.14 Monday in New York. The stock had declined 11 percent this year through Friday's close.
British American Tobacco Plc, whose products include Newport, fell the most in more than four years in London, destroying 8.4 billion pounds ($10.8 billion) of market value. Menthol products sold in the U.S. account for about a quarter of the company's earnings.
"BAT is the most exposed name to the potential risk," wrote Richard Taylor, an analyst at Morgan Stanley who estimates that U.S. menthol cigarettes account for 25 percent of total earnings.
"We are not aware of anything that has changed to suggest the FDA would deviate from its existing multi-year comprehensive, rule-making process on flavours in tobacco products, which includes menthol," BAT spokesman Simon Cleverly said in a statement. If the agency indicates it seeks "to regulate menthol cigarettes, any such proposal will have to go through the multiyear rulemaking process," he said.
The potential ban steps up the FDA's campaign against youth smoking. Clove cigarettes were previously taken off the market, and now the agency is taking a tougher approach to alternatives, too. The FDA has been targeting flavored tobacco products as studies indicate that teens who smoke menthol cigarettes consumed close to twice as many weekly compared with non-menthol users.
Not all analysts think a ban is likely. Jefferies analyst Owen Bennett said such a move is improbable and would take years to implement.
Tobacco companies would probably mount a legal challenge that would delay the process, Gerry Gallagher, an analyst at Deutsche Bank, also said.
The decline in BAT shares illustrates that while the Lucky Strike maker is expanding into vapor and heated-tobacco products, its main business is still cigarettes.
Imperial Brands Plc declined as much as 5 percent. The Winston maker gets about 15 percent of earnings from menthol brands such as Kool and Salem in the U.S., according to Jefferies. The proportion is about 20 percent for Altria, according to the firm.
Imperial will continue to engage with the FDA about menthol cigarettes, but will not comment further until there's a formal update from the agency, spokesman Simon Evans said by email.
Newport is BAT's largest menthol brand and accounts for about 40 percent of U.S. sales, according to Duncan Fox, an analyst at Bloomberg Intelligence. Tobacco companies won an exception for menthol, the most popular flavored cigarette and the one preferred by black smokers, when a federal law banned other flavors in 2009.
BAT shares have dropped 40 percent this year, the biggest drop in at least two decades. They have had only two annual declines in the past 19 years.