BASF Weathers Chemical-Market Dip From Car Industry
BASF SE said profit growth this year will be at the low end of its forecast, testing Chief Executive Officer Martin Brudermueller's plan to make the world's biggest chemicals maker more nimble.
The German supplier of petrochemicals and nutritional supplements sees earnings toward the bottom end of a 1 percent to 10 percent growth range, according to a statement on Friday.
Brudermueller marked his first year in charge with a reorganization of BASF's businesses spanning basic plastics to genetically modified seeds. He's handing more operational control to managers and is reorganizing the roles of 20,000 workers to make BASF more agile to shifts in demand. Like peers DowDuPont Inc. and Covestro AG, the Ludwigshafen-based company is battling against weaker petrochemical margins, lower pricing, and a slowdown in sales to carmakers.
"It's still too early to say what kind of test Brudermueller will see as he enters his second year," said Mustaq Rahaman, an analyst at Bloomberg Intelligence. "It's only a slight modification to guidance and not a surprise given weak outlook."
The shares gained 0.5 percent to 72.71 euros in early trade in Frankfurt, increasing the year's gains to more than 20 percent. That values BASF at 66 billion euros ($73.7 billion euros).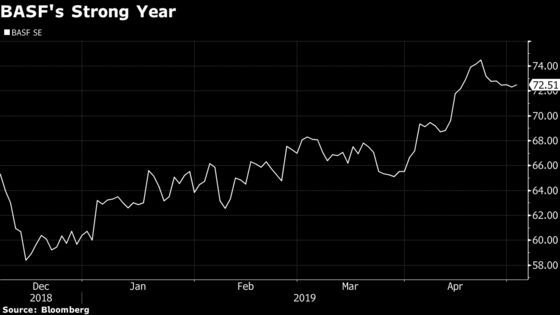 BASF leaned in part on demand for catalysts used in refining to prop up first-quarter earnings, which fell 24 percent to 1.7 billion euros. The full-year market consensus is unlikely to change, Citi analyst Thomas Wrigglesworth said in a note.
The acquisition of crop-care and seed businesses from Bayer AG and the German chemical maker's propensity to keep improving efficiency helped counter weaker petrochemical margins and a ramp up in global production of polyurethane chemicals that's depressed prices.
BASF also reiterated its 2019 guidance for sales growth of as much 5 percent. Quarterly sales rose 3 percent to 16.2 billion euros versus an analyst estimate of 16.1 billion euros.