BASF Says Chemical Industry Taking Big Hit From Virus Spread
The chemical industry became the latest sector to be hit by the coronavirus after German giant BASF SE warned the outbreak could lead to the lowest growth in production since the financial crisis more than a decade ago.
The slump in demand may see the supplier of plastics and additives slide to a second straight year of falling profit, BASF said in a statement on Friday. The epidemic will have a significant impact worldwide, particularly in the first and second quarters, which won't be fully offset during the remainder of the year.
The setback comes at a time that BASF under Chief Executive Officer Martin Brudermueller is embarking on a major expansion into China, where it is building a new $10 billion complex in the southern city of Zhanjiang. The first phases of the plant will be operational in 2022, with the entire project due to come on stream by the end of the decade.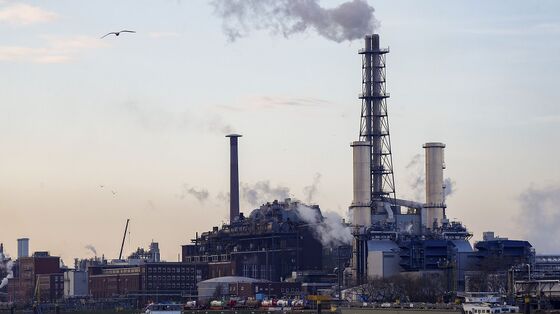 "BASF remains in a challenging place with trough upstream earnings but a need to invest for the future," said Thomas Wrigglesworth, an analyst at Citigroup.
The shares dropped 3.9% to 53.70 euros as of 9:14 a.m. in Frankfurt, the lowest since June 2012.
While cash flow plunged by 465 million euros last year, BASF simultaneously increased its five-year investment guidance to 23.6 billion euros, according to Barclays' Sebastian Satz.
The 29% decline in 2019 earnings has raised the question of how BASF will use the proceeds of two large disposals worth almost $5 billion, which should materialize in the second half of this year. An initial public offering of an oil-and-gas venture is also slated to go ahead.
"We're hoping to get more clarity on the use of disposal proceeds in 2020 and how much they would potentially allocate to share buybacks," said Martin Kohlhase, a Frankfurt-based senior vice president at Moody's Investors Service. "If they want to strengthen their rating positioning, then debt reduction should be a priority."
With visibility low on how chemical demand will play out for the rest of 2020, BASF forecast a broad range of potential earnings outcomes. Worst-case scenario is a further decline to 4.2 billion euros from last year's 4.5 billion euros, while the optimistic alternative is an increase to 4.8 billion euros.
BASF is also exposed to the struggling automotive industry, which accounts for an estimated 20% of sales.
Brudermueller is relying on self-help measures, including job cuts and other cost-reduction measures, to boost profit by 2 billion euros by the end of 2021. The target is to obtain the bulk of those savings by the end of December.
"The key steps have been initiated," the CEO added. "We still have a lot of details to work on this year."