Barnes & Noble to Consider Sale, Including to Founder
(Bloomberg) -- Barnes & Noble Inc., facing management upheaval and shrinking revenue, is weighing acquisition interest from several parties, including Chairman Len Riggio.
The company said it created a special board committee to consider its strategic alternatives, sending the company's shares up as much as 25 percent to $6.82 in after-hours trading. The book retailer also enacted a takeover defense plan, after observing "rapid material" purchases of its stock by an unidentified investor. The retailer didn't name the other interested parties.
The formal review follows a turbulent period for Barnes & Noble: Earlier this year, the company fired former chief executive officer Demos Parneros without severance pay for violating company policies, including alleged sexual harassment -- a claim that Parneros denies. Meanwhile, continued sales erosion has caused the stock to lose almost 19 percent of its value this year.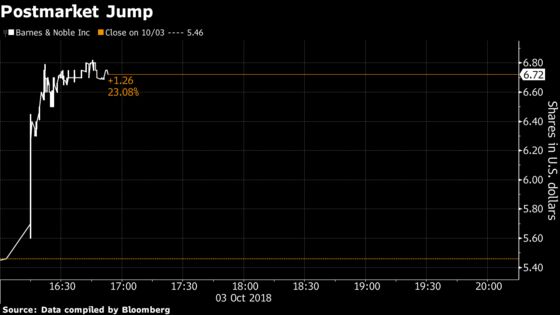 Riggio, also the company's founder, largest shareholder and acting chief executive officer, has previously expressed interest in buying, only to back off. Because of the stock's declines, market capitalization for the company is now short of $400 million.
The company is being advised by Guggenheim Securities LLC.