Barnes & Noble Soars on Hopes Going Private Could Mean Faster Changes
(Bloomberg) -- Barnes & Noble Inc., facing management upheaval and shrinking revenue, buoyed shareholders' spirits with news it's weighing acquisition interest from several parties, including Chairman Len Riggio.
Shares of the struggling bookseller soared as much as 31 percent in New York Thursday, erasing all of the year-to-date losses. Even after the jump -- the biggest intraday gain since April 2012 -- the market value stands at about $500 million, about a fraction of its value a decade ago.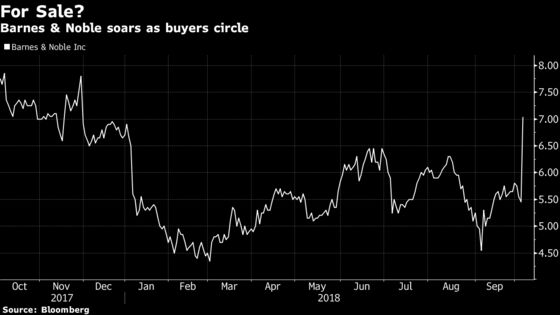 The company said late Wednesday that it had created a special board committee to consider its strategic alternatives. The book retailer also enacted a takeover defense plan, after observing "rapid material" purchases of its stock by an unidentified investor. The retailer didn't name the other interested parties.
David Schick, director of research for Consumer Edge Research, said taking the company private could allow more rapid improvements at the book and gift chain, which has posted six years of revenue declines as it tries new formats and strategies to compete with the likes of Amazon.com Inc.
"Not managing to publicly announced quarters could allow more aggressive changes," Schick said in an email. The company "should and could work to more aggressively update cafe offerings, modernize the membership and improve the digital elements of the omni-channel business." It could also evolve toward a more "independent bookstore" feel, he said.
One of the knocks against Barnes & Noble for years has been that it wasn't leveraging its assets enough. While many retailers are just now trying to make their locations more experiential, the company already had loads of that with its cafes, reading nooks and play areas for kids. That pushes customers to spend more time in its stores, so there should be a way to get them to spend more.
The company has tried to placate investors' frustration with its sagging sales by expanding into other categories. Nearly a decade ago, it invested heavily in creating its own e-readers and tablets under the Nook brand to capture the growing market for electronic books. But that endeavor didn't turn out well, with the company writing off millions in assets. It has since reduced the cost of this division by partnering with electronics-maker Samsung.
Another critique is that the company's website and other technologies lag far behind competitors like Amazon, which began as a bookseller itself. A mainstay of the retail industry is offering customers the ability to pick up online purchases in a store. Barnes & Noble rolled that out just earlier this year.
Rick Schottenfeld, whose firm is the fifth-largest holder of Barnes & Noble with a 6.2 percent stake, has raised many of these issues with management as an activist investor. He said he's become frustrated after pushing the company for several months to re-think parts of its business that it's been slow to change.
In September, he asked Riggio on an earnings call about the handful of upscale restaurants it had opened in stores. Riggio responded that despite good sales, profitability was difficult, and that ultimately running them isn't in the company's DNA.
"That's not really the answer that a good company gives," Schottenfeld said in an interview. "There doesn't seem to be the people in that company to roll up their sleeves and figure these things out."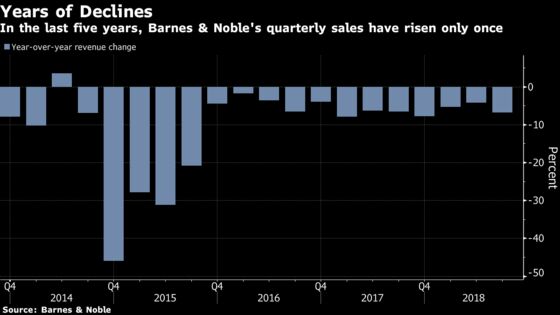 There have also been personnel issues. Earlier this year, the company fired former chief executive officer, Demos Parneros, without severance pay for violating company policies, including alleged sexual harassment -- a claim that Parneros denies, and he's sued as result. Meanwhile, continued sales erosion has caused the stock to lose almost 19 percent of its value this year through Wednesday's close.
Riggio, also the company's founder, largest shareholder and acting chief executive officer, has previously expressed interest in buying, only to back off.
Because of the stock's declines, market capitalization for the company was short of $400 million ahead of the announcement Wednesday. A one-time mall stalwart, Barnes & Noble's market cap was about one-tenth the size of shoe brand Skechers U.S.A. Inc. It was back above $500 million during Thursday trading.
"It's a great short-term pop," Schottenfeld said of Thursday's share jump. "But someone else running this business differently could create more shareholder value than a sales transaction."