Russia Detains Veteran U.S. Private Equity Investor
(Bloomberg) -- Michael Calvey, founder of private equity firm Baring Vostok Capital Partners and one of the longest-standing American investors in Russia, was detained in Moscow as part of a commercial dispute.
Calvey and three other employees are being held in relation to a case that revolves around Russian retail lender Vostochny Express Bank, where the American is board chairman and his fund a majority owner. A dispute had emerged between Calvey's team and Vostochny shareholder Artem Avetisyan, who has ties to Russia's security services, over control of the board and the bank itself.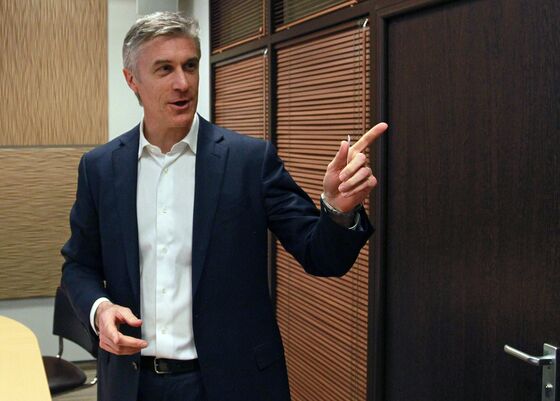 "Baring Vostok believes that the detention of its employees and the charges that have been brought are a result of a conflict with shareholders of Vostochny Bank," the firm said in a statement. "We have full confidence in the legality of our employees' actions and will vigorously defend their rights."
Avetisyan didn't reply to phoned and texted requests for comment.
Charges relate to the embezzlement of more than 2.5 billion rubles ($37.5 million), Interfax reported, citing an investigator at the Moscow court. The criminal case was opened Feb. 13 after a complaint from Sherzod Yusupov, a minority shareholder at Vostochny, made less than a week earlier, the news service reported.
Calvey maintains his innocence, his lawyer Dmitry Kletochkin said outside the court. The hearing will continue Saturday, he said.
Calvey previously worked at Salomon Brothers and helped start Baring Vostok in 1994 as a joint venture between Baring Asset Management and Sovlink, a Russian-American merchant bank. Baring Vostok has raised $3.7 billion in total capital since then. It's known for early investments in online and tech businesses in Russia and for earning 500-fold returns on its investment in Yandex NV, Russia's largest search engine.
During the hearing, the investor said that Avetisyan and Yusupov brought the charges to force Baring Vostok drop claims against them filed in a London court last year, according to Kletochkin. Calvey accused them of siphoning off assets from a bank they controlled that was combined with Vostochny. The central bank ordered the merged lender to increase loan provisions and boost its capital, which Calvey's team planned to do through a share issue.
Herman Gref, the head of state-run Sberbank PJSC, called Calvey an upstanding person and said he hopes the case is the result of a misunderstanding, according to a statement from Russia's biggest lender.
"I am ready to provide a personal guarantee" for Calvey, said Kirill Dmitriev, head of the Kremlin-backed Russian Direct Investment Fund. "He did a lot for attracting foreign investment in Russia and helped many Russian companies to grow and mature."
While the court delayed a decision on pretrial restrictions on Calvey, the judge ordered three Baring Vostok employees -- partner Phillipe Delpal, partner Vagan Abgaryan and director Ivan Zyuzin -- and two others to be held in custody for two months in relation to the case, according to Russian news services.
It's the second high-profile detention of an American in Russia in the past two months. Paul Whelan, who has multiple citizenship, was arrested at the end of December on espionage charges, which his family denied, soon after Maria Butina, a Russian gun enthusiast, pleaded guilty in the U.S. to conspiring to act as an unregistered foreign agent. Earlier that month, President Vladimir Putin rejected suggestions that Russia would "arrest innocent people simply to exchange them for someone else later on."
Putin has been informed of the case, his spokesman, Dmitry Peskov, said by text.
"The arrest of Mike Calvey in Moscow should be the final straw that Russia is an entirely corrupt and uninvestable country," tweeted Bill Browder, a U.K.-based investor who tracks dirty money flows from Russia after being barred from the country more than a decade ago. "Of all the people I knew in Moscow, Mike played by their rules, kept his head down and never criticized the government."
"Unless we get convincing evidence soon of Calvey doing something wrong, it's yet another negative signal about the ability to do business in Russia," said Paul McNamara, a money manager at GAM Ltd. in London. "The assumption would be that Vostok was doing something inconvenient to a politically-influential business."