Bargain Hunters Eye Malaysian Assets After a Terrible 2019
(Bloomberg) -- Follow Bloomberg on LINE messenger for all the business news and analysis you need.
Investors are going bargain hunting in Malaysia as they expect government policy changes to start bearing fruit.
Global funds from Aviva Investors to BNP Paribas SA are picking out cheap deals in the country after its benchmark stock index had the worst year since 2008. Sentiment appears to be on the mend as inflows into Malaysian equities swell to $121 million so far in January, the biggest monthly purchase in a year.
Prime Minister Mahathir Mohamad has sought to rein in debt, restructure state-linked firms and spur economic growth since returning to power two years ago. That has led to billion-dollar projects being revised or canceled and leadership changes at the country's biggest companies -- moves that have roiled the markets. Still, the worst may be over.
"I consider Malaysia a rare gem as there are not many opportunities in this region where you get to invest in a market with a new government carrying out reforms," said Clint Loh, a regional fund manager at Phillip Capital Management Sdn. "Others appear to flee on herd mentality, but there are pockets of opportunities to generate returns on this backdrop."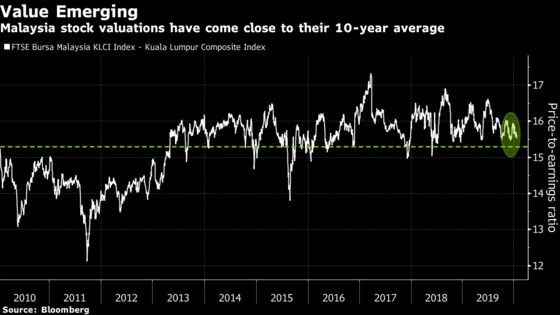 Sentiment also got a boost after the central bank rolled out measures to deepen onshore markets ahead of a decision by FTSE Russell on whether to retain ringgit bonds in its World Government Bond Index. On Wednesday, policy makers unexpectedly cut the benchmark rate to the lowest since 2011.
Malaysia's economy is set to expand 4.8% this year, from an estimated 4.7% in 2019, as receding trade-war concerns and infrastructure spending spurs investment.
So far, 2020 has been good to some Malaysian assets. The ringgit has gained 0.6%, the best performance in Asia after Indonesia's rupiah and the Chinese yuan. The yield on benchmark 10-year bonds has dropped 15 basis points, while the FTSE Bursa Malaysia KLCI Index of stocks has declined 1%.
Here's a selection of views on Malaysian assets:
"We have a positive outlook for the ringgit and recently added a long position in our portfolios," said Stuart Ritson, a fund manager at Aviva Investors. "We believe the ringgit is among the cheapest currencies in Asia and one that should benefit from a stabilization and anticipated recovery in global growth."
Malaysia's wider trade surplus will also support the currency, he added.
"At the bottom-up stock level, the Malaysian market does offer compelling investment ideas that have done extremely well last year and we expect to continue to find such ideas in 2020," said Soo Hai Lim, head of Asia ex-China equities at Barings. Overall, the drivers for Malaysian stocks' underperformance continue into this year, as improvements in U.S.-China trade relations and the 5G roll-out prompt investors to look toward North Asian markets instead, he said.
"Malaysia is well-positioned for export-oriented growth and potential relocations, especially in the electronics sector, driven by the ongoing U.S.-China trade friction," said Cynthia Lum, a senior fund manager for Asean equities at BNP Paribas Asset Management. She also sees opportunities in a few life insurance companies due to Malaysia's young demographic and low penetration rate.
"If people are looking for a defensive market, Malaysia will be our first pick," said Dan Fineman, co-head of equity strategy for Asia Pacific at Credit Suisse Group AG, who doesn't expect the country's stocks to outperform against the moderate recovery in Asia more broadly. "Much of the market is still locked up in local long-term money," he added.
"Our view is for Malaysian government bonds to continue to provide an attractive total return in 2020," said Rahul Bhan, head of Asia local markets trading, Malaysia, for Deutsche Bank AG. "The central bank remains accommodative, inflation is benign and there is a resurgence in demand from offshore clients."
The bank expects the ringgit to gain toward 4.00 a dollar, he added. "Malaysian government bond yields should stay range bound and our strategy remains to buy on dips."
RHB Asset Management Sdn. expects the country's equities to be supported by a corporate earnings recovery, low valuation compared with regional peers and improving exports amid reduced trade tensions, said Petrina Chong, head of Malaysia equity research.
The fund favors sectors including construction as major projects restart, health care due to higher state allocation, as well as plantation as palm oil prices recover, she said. RHB expects potential mergers in banking and telecommunications, and continued restructuring of government-linked companies in 2020.
State Street Global
Advisors
"I expect both the ringgit and ringgit bonds to moderately appreciate," said Ng Kheng Siang, Asia Pacific head of fixed income at State Street Global Advisors. "With global bond yields expected to stay at the low range for some time, investors may seek out exposures in emerging market bond segments which offer decent yield while fundamentals remain sound -- such as Malaysia."