Barclays CEO Promises Buyback as Trading Outperforms Rivals
(Bloomberg) -- Want the lowdown on European markets? In your inbox before the open, every day. Sign up here.
Barclays Plc's Jes Staley promised more buybacks and dividends to shareholders as the bank's traders outperformed most of their Wall Street and European peers.
Fourth-quarter income at the London-based firm's markets unit fell 2.5 percent from a year earlier to 945 million pounds ($1.2 billion), a performance that beat many of the bank's rivals. The results give Staley more ammunition as he pushes back against Edward Bramson, the activist investor.
"Every quarter we gained market share -- we had the strongest performance of any of our competitors on the year, so we feel great about that," Staley, the bank's 62-year-old chief executive officer, said in an interview on Bloomberg Television Thursday.
While the last three months of the year are usually weak for the industry, trading revenues fell less than the 6.7 percent average decline posted by the five biggest U.S. banks in the quarter, data compiled by Bloomberg show.
"We will use the strong capital generation of the bank to return a greater proportion of those earnings to shareholders by way of dividends and to supplement those dividends with additional returns, including share buybacks," Staley said.
American-born Staley, who spent over 30 years at JPMorgan Chase & Co.'s investment bank, aims to take on the likes of Morgan Stanley and Goldman Sachs Group Inc., while Bramson would rather he curtailed those ambitions.
Despite last quarter's outperformance versus rivals, the corporate and investment bank posted a negative return on tangible equity of 1.3 percent in the fourth quarter, the worst result among divisions at the bank.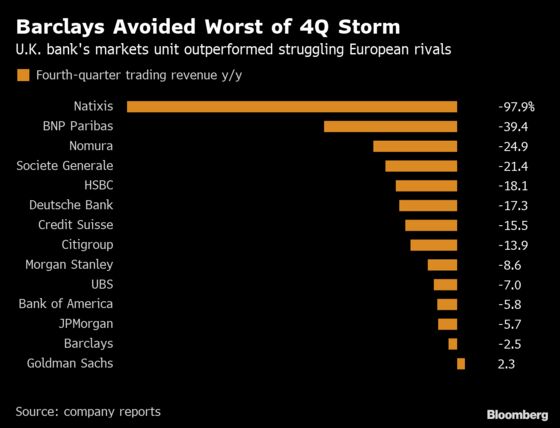 The bank said its dividends will be progressive, supplemented by buybacks when appropriate, potentially once the economic uncertainty fades. A share buyback would be the first since Staley took over as CEO in 2015, and the lender recently published average analyst estimates for its buybacks for the first time. The analysts forecast repurchases of 455 million pounds for 2019.
"The prospect of share buybacks are a sign Barclays is in better shape," said Laith Khalaf, analyst at Hargreaves Lansdown.
Bramson is set to meet Staley next month in New York, and in May, he'll also ask investors to appoint him to the board. The CEO said he hopes to keep the dialog "constructive" with the activist, but said the board will "unanimously" recommend shareholders vote against Bramson's request.
"We want to engage with shareholders, we want to listen to their ideas and thoughts, but we don't believe a board seat is necessary to do that," he said.
The stock initially rose as much as 4.8 percent before paring its gains as the market appeared skeptical of the bank's buyback plans. "There are lingering questions over the timing and quantum of capital return at the bank," said Joseph Dickerson, banks analyst at Jefferies Financial Group Inc.
Barclays' stock has a lot of ground to regain after last year's 26 percent decline -- another cudgel Bramson has used against Staley and outgoing Chairman John McFarlane, who had vowed "a meaningful recovery'' for 2018.
"We cannot accept that pricing," Staley said of the bank's past share drop.
Other highlights from the earnings report:

FICC revenues dropped 6% to 570 million pounds from the fourth quarter last year; equities trading increased 3.6% to 375 million pounds
Full-year profit before tax was 3.49 billion pounds; excluding conduct and litigation charges, it was 5.7 billion pounds, below the company-compiled analyst consensus estimate of 5.83 billion pounds
Bank took 150 million pounds in provisions for economic uncertainty related to Brexit, of which 100 million pounds was booked at its U.K. unit. Barclays also took a 140-million-pound provision related to pensions