Barclays Signals Economic Pain Ahead With Bad Loan Charges
(Bloomberg) -- Barclays Plc said it expects a prolonged stretch of economic contraction and bad loans, overshadowing the success of its traders in the coronavirus pandemic.
U.S. and U.K. unemployment, a key variable for souring credit, "is now expected to be heightened for a prolonged period," the London-based bank said Wednesday as it reported second-quarter earnings.
It took a 1.6 billion-pound ($2.1 billion) charge to anticipate bad loans, which brought the total to 3.7 billion pounds so far this year, more than analysts anticipated.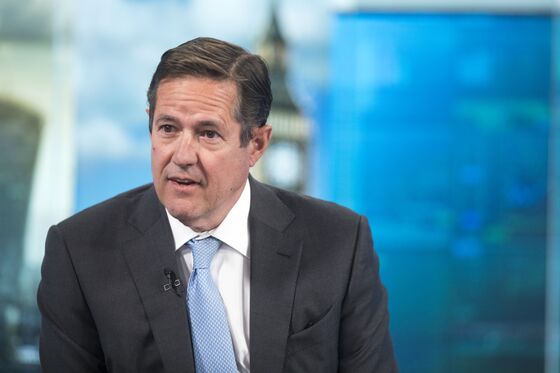 The gloomy outlook illustrates the limits of Chief Executive Officer Jes Staley's bet on investment banking and trading in an environment where the British economy faces its worst downturn in three centuries.
"There has been extraordinary economic contraction," especially in the U.S. and U.K., the bank's two principal markets, Staley said on Bloomberg Television.
The firm downgraded its forecasts for the U.K. and the U.S. economies and consequently had to bolster its provisions. It now assumes U.K. unemployment might surge to 6.5% next year, up from a 4.5% assumption when it reported first-quarter figures. If British unemployment reaches 7%, Deutsche Bank AG analysts have estimated the nation's banks might book up to 40 billion pounds in provisions over two years.
Barclays' securities division defied the gloom, reporting a 60% gain in foreign-exchange, rates and credit income, though some analysts expected bigger gains after Wall Street's blockbuster quarter. Staley, too, warned that growth at the securities unit is set to slow.
Volatility in the first two quarters was exceptional this year, according to the CEO. "People are expecting a normalization," Staley said.
The stock fell 4% in London trading. Barclays, the first British bank to report quarterly earnings, has slumped about 40% this year. That's still a better performance than NatWest Group Plc and Lloyds Banking Group Plc, domestically-focused peers without substantial securities businesses.
"These results aren't exactly unexpected, but they paint a pretty bleak picture of the U.K. economy," said Nicholas Hyett, equity analyst at Hargreaves Lansdown.
Barclays expects that impairments in the second half will fall from the first-half level. It also took a 186 million-pound impairment related to a single client that it didn't identify.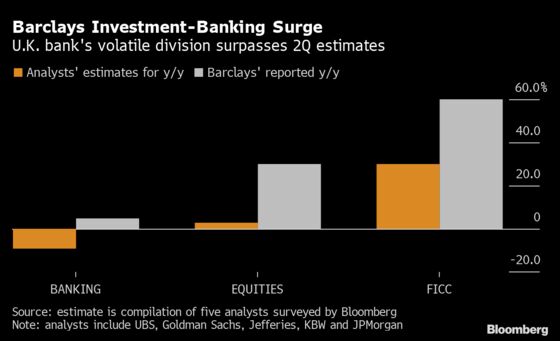 The credit card and payments unit booked a loss for the first six months of the year. The bank has said it expects the income at this business to recover, but headwinds including low interest rates are likely to persist into next year. The division recently stopped taking new applicants for a co-branded credit card with Uber Technologies Inc., one of its highest-profile cards in the U.S. market.
Barclays had previously indicated that quarterly impairments should run between 800 million pounds and 1 billion pounds per quarter this year. Analysts expected a 1.4 billion-pound hit in the second quarter.
The bank said there are "early signs of credit deterioration" in U.K. unsecured lending, a business whose growth Barclays slowed down as the pandemic crisis gathered pace.
Second-quarter net income fell 4% from a year earlier, in line with estimates
Pretax profit fell 77%, worse than the 69% consensus analyst estimate
Equities income jumped 35%, beating the 3% consensus estimate
Two of Barclays' European peers reported figures today that also showed the diverging fortunes of trading businesses and domestic economies. Spain's Banco Santander SA took a $14.8 billion hit related to Covid-19's effect on the economic outlook. In Germany, Deutsche Bank reported its biggest fixed-income trading gain in almost eight years.
Staley repeated that Barclays would wait until the end of the year to consider the future of its dividend and to make a decision on variable compensation after the stellar trading performance. Barclays wants to "pay fairly, but also be mindful" of the pandemic, Staley said.