Barclays Trading Surge Bolsters CEO Staley in Activist Clash
(Bloomberg) -- Barclays Plc's Jes Staley has a stronger case to fend off the British lender's activist shareholder as he delivers on a promise to grow its securities trading business.
The unit saw fixed income, currency and commodities income substantially outperform U.S. peers in the third quarter, rising almost 10 percent. Equity trading revenue surged by more than a third, the bank said Wednesday, beating the 7.7 percent average growth pace posted by U.S. banks in the quarter. Revenue from trading equities boomed, driven by strength in derivatives and equity financing.
Staley, 61, is a believer in investment banking after spending over 30 years at JPMorgan Chase & Co., and has staked his reputation on boosting returns at the division. Revenue had sputtered after he took the helm of the bank in 2015, and since last spring, he's been pressured by activist investor Edward Bramson. Now, as performance recovers, the bank is returning more capital and is suggesting that more is on the way.
The shares climbed as much as 2.9 percent in early morning trade in London.
Barclays delivered a "solid performance," said Raul Sinha, analyst at JPMorgan. "While there are challenges from Brexit-related economic uncertainty in the U.K., with most legacy issues now behind, the group is well placed to take action to deliver " with cost cuts and share buybacks, he said.
As revenue rebounds, Barclays also said it planned to redeem some U.S. preferred shares from 2008, lowering its financing costs. It also repeated its intention to pay a 6.5 pence dividend for 2018.
"We'll be meeting with Ed in the next couple of weeks," Staley said of Bramson in an interview on Bloomberg Television. "I look forward to his ideas." The activist has yet to articulate specifics of his strategy, the CEO said.
Staley has previously said the bank's board is "100 percent supportive" and retreating from his plan is out of the question. Yet, Bramson has argued the board may be open to changing a strategy that he says relies too much on one-time items to boost profit. Bramson's Sherborne Investors holds about 5 percent of the British bank.
Still, the corporate and investment bank unit remains the worst performing division at the lender. Its return on tangible equity, a measure of profit, was 6.6 percent in the third quarter compared with 19.8 percent in the consumer, card and payments arm.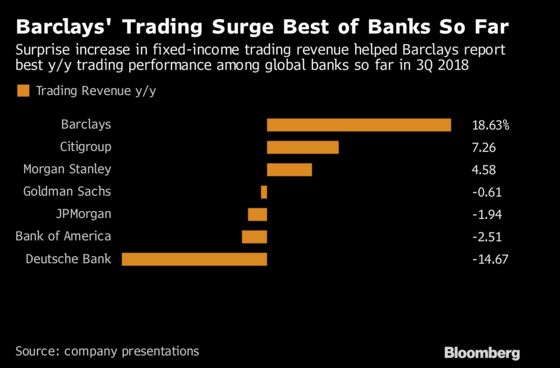 "There have been comments that Europeans can't compete with the U.S. investment banks," Staley said. "And I point out that with four quarters in a row, we have gained market share. I think you have to raise the question about that view."
Staley said the bank increased the allocation of capital to the equity business, particularly in equity financing. Barclays is investing in technology and has provided the equities business with new systems for electronic trading. The advisory unit, which under-performed in the quarter, has started strongly in October, he said.
Barclays has also begun the process of seeking a replacement for Chairman John McFarlane, who hired Staley and has backed him through several years of middling results and a scandal where the CEO attempted to unmask a whistle-blower.
Other highlights from the third-quarter results:
Barclays operating net income of 4.88 billion pounds beat the company-compiled estimate of 4.69 billion pounds. 
Revenue from advising on mergers and acquisitions and arranging stock and bond sales was 519 million pounds in the third quarter versus 607 million pounds a year ago
Equities revenue of 471 million pounds in third quarter beat analysts' 461-million-pound average estimate.