Staley Says Barclays Is Ready to Take on U.S. Banking Giants
(Bloomberg) -- Barclays Plc Chief Executive Officer Jes Staley could barely contain his smile, boasting to television interviewers that his British institution was ready to take on U.S. banking giants after recording "the best performance of any bank to report thus far" for the third quarter.
In Frankfurt, the picture was grimmer. Deutsche Bank AG CEO Christian Sewing kept his communications to a call with analysts and a guarded note to his 95,000 employees. Just six months into his job, he'd given the skeptics more reason to doubt his turnaround plan: His firm reported its lowest third-quarter revenue since 2010, softened its profit target and lost ground to rivals after firing thousands of bankers. The result helped drive the stock to a record low.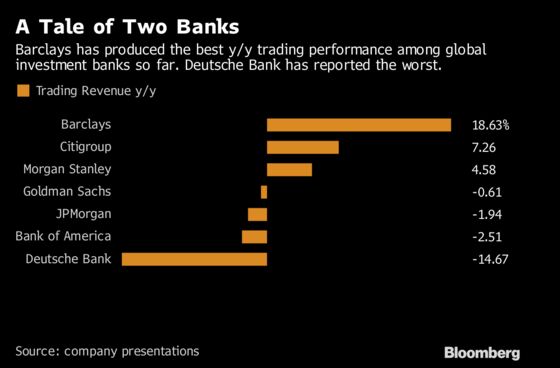 The diverging fortunes of the two CEOs show how Europe's banking map continues to be redrawn by the upheavals of the past decade. It wasn't long ago that both lenders were losing share to aggressive U.S. banks. Staley, a brash New Englander who once led JPMorgan Chase & Co.'s investment bank, says the era of retrenchment is over. Sewing, an unassuming German with a background in retail banks and risk management, promised that cuts are on track to continue, leaving the dominant bank in Europe's biggest economy struggling for traction as Barclays narrows the gap in trading revenue.
"They are taking very different directions," said Michael Huenseler, who helps oversee about 23 billion euros at German money manager Assenagon Asset Management. "Deutsche Bank is trying to regain its footing but they're struggling. Barclays, on the other hand, is shifting into a higher gear."
Barclays shares jumped more than 3 percent, trimming their loss for the year to 18 percent; Deutsche Bank shed almost 5 percent, bringing its decline this year to 44 percent and slumping to a record closing low of 8.87 euros.
The differing personalities and backgrounds of the CEOs is playing a "major role," said Huenseler, whose firm invests in Barclays debt. Retail bankers are obsessed with costs and profit margins, he said, while traders and bankers are all in on the next score.
Trading revenue at Deutsche Bank slumped 15 percent to 1.8 billion euros ($2 billion), close to the average estimate of analysts surveyed by Bloomberg. The same business increased 19 percent to 1.2 billion pounds ($1.6 billion) at Barclays, more than double analysts' average prediction.
As the morning went on, Staley repeatedly talked of reclaiming lost market share. Some of the biggest European banks, including Barclays, Deutsche Bank and Credit Suisse, have struggled to fend off JPMorgan and Citigroup and Morgan Stanley over the past several years as they shed workers and overhauled management.
"There have been comments that Europeans can't compete with the U.S. investment banks," Staley told reporters. "And I point out that with four quarters in a row, we have gained market share. So with four quarters, I think you have to raise the question about that view."
The American in London attributed the increase in trading revenue to top-level hires -- such as Michael Lublinsky, lured from Brevan Howard to head rates trading, and Stephen Dainton, the ex-Credit Suisse executive who joined as head of equities last year. He's also poured more of the firm's balance sheet into "equity financing," a business that caters to hedge funds, and invested in technology, which has produced a tenfold increase in electronic trading, he said.
"Cutting back is not something that you can sustain," Staley said. At some point businesses have to grow and Barclays is in a position to do that now."
Barclays' investment bank expanded previously under ex-CEO Robert Diamond yet later became enmeshed in a series of scandals and costly regulatory probes after the financial crisis. In March, the firm agreed to pay $2 billion to settle a U.S. investigation into mis-selling of mortgage bonds.
There's plenty of ground to make up. Barclays' fixed-income business is a fraction of market leaders JPMorgan, Citigroup and Bank of America. It doesn't hurt that Barclays has a dominant position in U.K. consumer credit.
By contrast, Deutsche Bank admitted that cost cutting has hit revenue production. Chief Financial Officer James von Moltke, on a call with journalists, said that it's impossible to prevent talent drain during a restructuring. Sewing has eliminated a total of 1,635 jobs at the investment bank -- the bank's largest revenue driver -- since taking over in April. The cuts to the front office have been completed, the bank said, with net headcount among the investment bank's client-facing professionals down to 16,461 from 17,687 this year.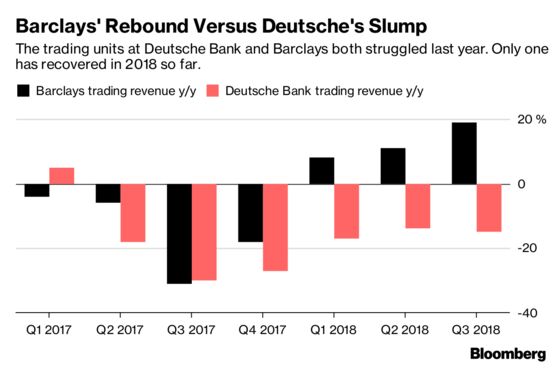 Sewing's effort is the fourth turnaround plan since April 2015 when former co-CEOs Anshu Jain and Juergen Fitschen unveiled a strategy centered around ending unprofitable client relationships and curbing the bank's geographical reach. That strategy was intensified later that year by their successor, John Cryan, and once again by Cryan in March 2017. Each of those plans has emphasized retrenchment.
Read more: Bloomberg Intelligence on Deutsche Bank results
Deutsche Bank also blamed previous business decisions for the quarter's trading result, saying that commodities trading-- which the lender pulled out of some time ago--performed well for its U.S. rivals and U.S. rates--a business it scaled back in the spring--had a good quarter compared with the European rates business, where Deutsche Bank is focusing some of its resources.
With more cuts coming, Sewing said that he's pinning his hopes on redeploying cash held on the balance sheet. He conceded that the bank still has much work to do in trying to win back market share.
"We made headway on our cost reductions. We are very confident that we will meet our 2018 targets," he wrote in his memo to employees. "On the other hand we have not yet achieved a turnaround in terms of revenues. We must therefore sustain our efforts to grow revenues across our businesses."