Barclays Cut 3,000 Jobs in Recent Months, Joining European Peers
(Bloomberg) -- Barclays Plc Chief Executive Officer Jes Staley said the bank cut 3,000 jobs in the second quarter as the firm sought to keep a tight grip on expenses and counter criticism over its ability to reach profitability targets.
The London-based bank joined other European lenders who have been eliminating roles in recent months, including HSBC Holdings Plc and Societe Generale SA. Barclays Finance Director Tushar Morzaria told journalists on a call Thursday that the cuts were "not concentrated in a particular area, but across the board," and in divisions that weren't generating returns.
The bank's shares rose as much as 3.4% in London trading as Staley said he's "very confident" that Barclays can hit a profitability target. The bank also reported investment-banking fees that surpassed rivals, while capital generation boosted analysts' confidence that the dividend will grow. That offset concern about shrinking loan margins in its home British market.
"The corporate and investment bank has done better than a relatively pessimistic market had expected," Nicholas Hyett, an analyst at Hargreaves Lansdown, said in a note. "It's been a disappointing quarter on costs," but "in the long run that should improve efficiency."
Staley has been hit by criticism of the investment bank -- a centerpiece of his strategy, but a business that doesn't cover its costs. The American-born CEO may have kept activist investor Edward Bramson at bay, but he has changed tack on how he runs the investment bank, bringing in a tighter rein on expenses.
Barclays had 83,500 employees worldwide as of Dec. 2018. The job reductions will be "felt in the cost numbers in the second half," Staley said.
Investment-banking fees, which include advising clients on deals and share sales, slipped 1% in the second quarter from a year earlier. That compared with analyst forecasts of a 11% drop, which would have been in line with U.S. peers. Markets income also fell less than some rivals, as Barclays traders posted a gain in fixed income, currencies and commodities.
Staley said on the call that he doesn't plan to cut investment bank jobs in "client-facing roles." The underwriting calendar is "looking robust," he said, and volatility coming back to markets helps too.
However, there have been some high-profile departures at the division. In a dispute over bonus cuts earlier this year, he ousted his hand-picked head investment banker, Tim Throsby. Staley took direct control of the unit, conceding that its returns are "not yet where we need it to be."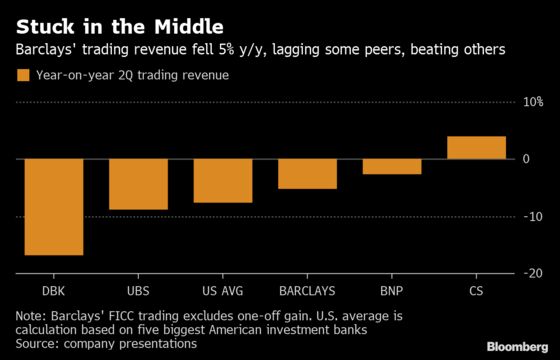 The London-based bank said that it plans to reduce expenses beyond its previous guidance, which had a lower bound of 13.6 billion pounds ($16.5 billion). That's in line with what the bank said in the previous quarter was likely if conditions stayed tough.
The CEO said in a CNBC interview that he's "very confident" that Barclays can hit a target for return on tangible equity above 9% for 2019, a forecast that had been greeted skeptically by critics. The Bramson issue "is sort of behind us," he said.
A tough quarter on Wall Street saw all of the big U.S. banks post declines in fixed income, currencies and commodities, known as FICC, and equities. Only Goldman Sachs Group Inc. posted year-on-year gains in equities.
FICC income improved for Barclays even after gains from the initial public offering of Tradeweb were stripped out. Equities income fell 14%, worse than the 10% consensus analyst estimate compiled by Bloomberg.
Bank boosts dividend to 3 pence, from 2.5 pence; CET1 ratio was 13.4%, above estimate, and Jefferies analyst Joseph Dickerson cited the likelihood of a progressive dividend policy.
Second-quarter pretax profit was 1.58 billion pounds, in line with analysts' estimates, but U.K. profit missed estimates, sliding 21% year-on-year.
Net interest margin fell in the U.K. as Staley pointed to a combination of lower earnings from credit-card balances and a surge in mortgage refinancing amid low rates.
One-time gain of 166 million pounds came from the IPO of Tradeweb -- a boost this quarter to most of the big investment banks that jointly owned it. Barclays booked that gain in its FICC results.