Banks Offer Bargains on Unwanted Leveraged Loans 
(Bloomberg) -- Banks are sitting on at least $3.6 billion of risky corporate loans they struggled to sell in December, and the market is finally thawing enough for them to start offloading the debt.
They're offering discounts and improving terms to move loans off their books that they wouldn't normally have hung onto, potentially suffering losses in the process. Bank of America Corp. sold investors chunks of $400 million of loans made to C&D Technologies, a battery company, for somewhere between 88 and 90 cents on the dollar, according to people with knowledge of the matter. That would be the steepest discount on a U.S. leveraged loan in two years.
Banks led by Deutsche Bank AG are expected to try selling $1.2 billion of loans backing the buyout of ConvergeOne, an information technology services firm, as soon as next week. Lenders are finding better demand for leveraged loans than they did last month, after the stocks and junk bonds have rallied and money managers have grown less fearful about higher interest rates sapping economic growth.
"Investors may be happy that prices have recovered, but the whipsawing doesn't suggest to us a stable, healthy market," said Andrew Curtis, managing director and head of Z Capital Credit Partners, which buys leveraged loans. "This whipsawing suggests to us a schizophrenic market where sentiment and prices change often, quickly, and sharply."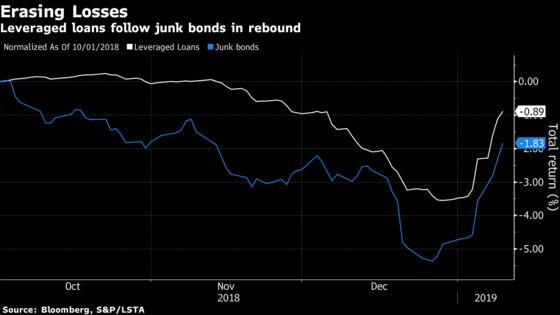 Investors put $139 million into exchange-traded funds that buy loans between Jan. 2 and Jan. 8, following four weeks of their taking money out of the funds, according to data compiled by Bloomberg. That kind of demand has translated to higher prices for leveraged loans this week: the average is around 96 cents on the dollar, up from less than 94 cents at the beginning of the month, according to the S&P/LSTA Leveraged Loan index.
But those figures are still below early November's levels of more than 98 cents on the dollar, underscoring how the market hasn't fully recovered. Even if investors bought loan ETFs, some $464 million was withdrawn from mutual funds for the debt in the week ended Jan. 9, according to Lipper data.
The loan for C&D, a private equity-backed battery company funding an acquisition, would have likely been sold for around 85 cents last month, according to people with knowledge of the deal. Investors are putting in bids for around 89.25 cents on the dollar now, people said.
Representatives for the banks and the private equity firms mentioned in this story either declined to comment or did not returns calls and emails seeking comment.
Investors are still seeking more safeguards on loans, and private equity firms are making concessions to help banks offload debt and keep the market for buyout financing functioning. Even KKR & Co., a private equity firm that creates leveraged loans when it does buyouts, said this week it's cutting holdings in the debt in its credit investment portfolios.
The ConvergeOne deal will be offered with more equity from private equity firm CVC Capital Partners, which bought out the company on Jan. 4. The loans will also have better investor protections in contractual provisions known as covenants, according to people with knowledge of the matter.
Separately, Wells Fargo & Co. and Barclays Plc are expected to try to sell $415 million of loans as soon as next week for Blackstone Group LP's buyout of a stake in Ulterra Drilling Technologies, a drilling equipment supplier, according to people with knowledge of the matter. That buyout closed late last year.
Credit Brief: Wall Street Strategists Flip on Credit
Steep discounts often force banks to realize losses on deals. They usually receive a fee equal to about 2 percent of the value of the first-lien loan, which are first to be repaid when a company fails, and up to 3 percent for riskier second-lien loans. They often require the borrower to shoulder losses of at least 2 to 2.5 cents on the dollar on loans that don't sell. Those factors can erase or cut down lenders' losses when markets get weaker and they have to sell loans at a discount of a few cents on the dollar. But a bank that sells loans at 88 or 90 cents on the dollar is likely to lose money on the transaction.
Among the other deals that banks have had to hang onto are:
FleetPride Inc.: The seller of truck parts was bought out late last year by American Securities. Banks in the lender group, Barclays, Royal Bank of Canada, Jefferies Financial, Citigroup Inc. and Goldman Sachs Group Inc., ended up holding more than $800 million of loans linked to the company on their books amid a difficult syndication market.
Blue Racer: First Reserve's acquisition of 50 percent of the pipeline operator closed late last year. The Goldman Sachs-led group arranging the financing ended up holding onto a $516 million loan. Goldman is now likely to sell the loan to a small group of buyers separate from the syndicated market, such as direct lenders or infrastructure funds, according to a person with knowledge of the deal. Barclays and Royal Bank of Canada are also involved.
Apollo Infrastructure: Apollo Global Management LLC's acquisition of a $1 billion investment portfolio from GE Capital's Energy Financial Services was due to close at the end of last year. Banks led by Royal Bank of Canada took the $275 million loan backing the deal onto their books. The loan is expected to return to the market. BMO Financial Group and Goldman Sachs are also involved.