Banks May Be Poised to Shed Years of Languishing Stock Values
(Bloomberg) -- Bank shares may be "better positioned than ever before," after years of dragging with price-earnings ratios trailing their historical averages, Oppenheimer & Co.'s Chris Kotowski writes in a note.
Oppenheimer, which has been covering the industry since 1985, admits there's "a lot to dislike" with banks, which are "highly levered, heavily regulated, cyclical commodity companies with a history of blowing up every decade or so." For good measure, Kotowski adds that "it is true that the industry destroyed some value on a permanent basis in the 2007-08 financial crisis."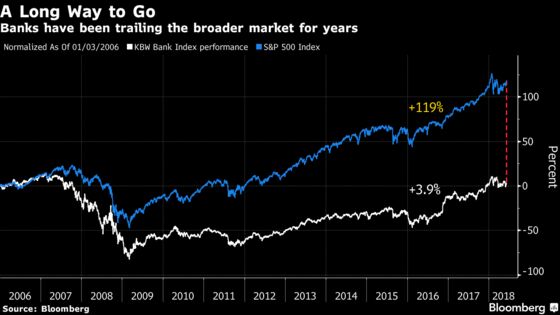 At the same time, banks are also "central to the functioning of the economy," and constitute about $1.95 trillion of market capitalization, representing about 6.1 percent of the total. Kotowski doesn't foresee credit quality becoming "a significant issue" for years to come and highlights S&P 500-beating earnings estimate revisions. "The banking industry," he writes, "actually looks a lot like broad-based consumer franchises that have predictable earnings growth in line with the broader market."
He flags his favorite stocks -- Bank of America Corp., Citigroup Inc., CIT Group Inc., Goldman Sachs Group Inc. and Jefferies Financial Group Inc. -- and sees banks outperforming by 500 to 1,000 basis points over the next 12 to 18 months.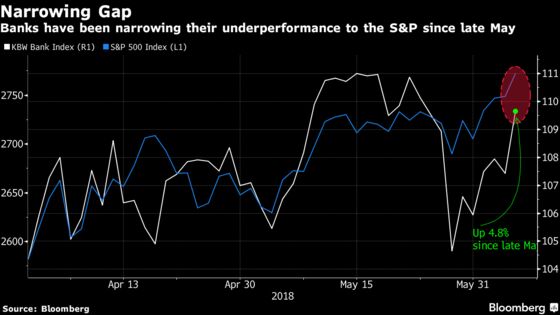 Investors are also keeping an eye out for a potential bank share catalyst with Federal Reserve stress test results that have been expected to be more challenging this year than last. The Comprehensive Capital Analysis and Review (CCAR) is due at the end of this month.