Banks Jump as Yields Rise, Analysts Start Warming to a Rally
(Bloomberg) -- Financial stocks are rallying for a second day as 10-year Treasury yields top 3.20%, and analysts say underperforming bank shares may be poised to gain off low expectations into third-quarter earnings season. Financials make up the best performing sector in the S&P 500 today.
The KBW Bank Index rose as much as 1.8 percent, led by some of the country's biggest lenders, including Bank of America Corp., Wells Fargo & Co., and JPMorgan Chase & Co. On Oct. 12, JPMorgan will kick off quarterly earnings season for banks; Citigroup Inc. and Wells Fargo also report that day, while BofA, Goldman Sachs Group Inc. and Morgan Stanley report the following week.
Bernstein analyst John McDonald joined other analysts who are looking for bank rallies into earnings: "We're expecting solid results," he wrote. "Given recent underperformance, we think the group can catch a bid and make up some lost ground on the prints." That follows KBW on Tuesday saying that stock prices are even lower than what tempered expectations for third-quarter profits would imply, which may mean that the group is poised to rally. Earlier this week, Goldman said big-bank stocks were at an attractive entry point after underperforming the broader market, and as four of seven covered banks were due to beat estimates.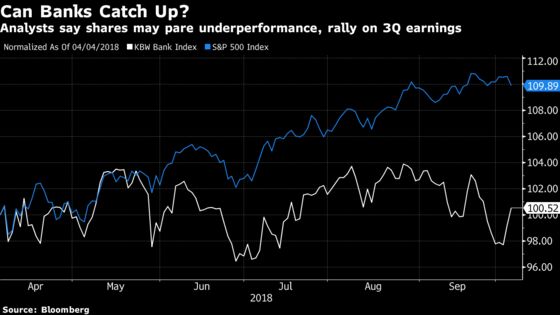 Investors may also be relieved that the Democrats' chances of capturing the Senate seem to have waned recently, soothing concerns about taxes. Earlier, Axios reported that top Republicans say they're seeing a surprising, widespread surge in GOP voter enthusiasm, powered by support for Supreme Court nominee Brett Kavanaugh. Recent University of Michigan survey data show that a months-long trend toward negative thinking about government economic policy may have started to reverse in September, Bloomberg economist Michael McDonough says.
A "red wave" in the November midterm elections might mean "tax cuts 2.0" are on tap, including cutting capital gains and dividend taxes, with a "fiscal sugar high extended," Cowen analyst Chris Krueger wrote Thursday.