Banks Face U.K. Grilling in Probe Over Big Gender Pay Gaps
The biggest banks in the U.K. are among the worst offenders in paying women less than men and face being summoned to explain themselves, according to Nicky Morgan, the Conservative member of Parliament who will chair hearings this summer into the finance industry's alarming gender pay gap.
Goldman Sachs Group Inc., HSBC Holdings Plc, Barclays Bank Plc and others could be asked to testify in front of a cross-party panel on how they plan to rectify pay disparities, Morgan said in an interview. Men at all three lenders earn at least 49% more per hour than women, on average.
"We were very disappointed with those figures and want to know what are they going to do about it because it's just not sustainable for companies to only pay lip service to this issue," said Morgan, who held the post of equalities minister between 2014 and 2016. There aren't any plans yet to punish offenders.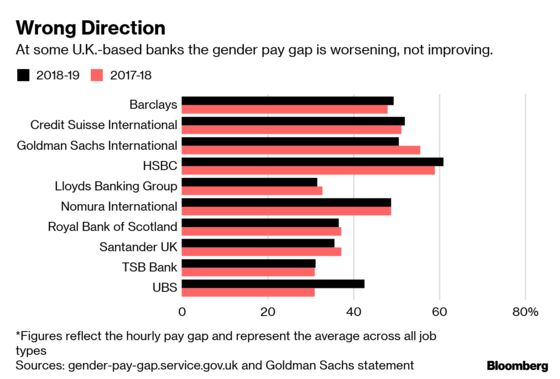 Financial-services companies have come under intense public scrutiny since the government made it mandatory last year to release pay disclosures annually, revealing some staggering imbalances in wages. Goldman's pay gap fell to 50.6% in the latest filings in April while HSBC's widened two percentage points to 61%.
The hearings will be held before lawmakers take their summer holidays in August, although the list of witnesses has yet to be finalized. Other banks that may be grilled include Lloyds Banking Group Plc and Clydesdale Bank Plc, which along with Barclays fall among the 10 worst offenders in the U.K. for employers with over 5,000 staff, Morgan said.
A lot of the criticism about the pay gap centers on the lack of women in more senior—and thus well-compensated—positions. This issue is particularly acute in financial companies, with women earning an average of 26.2% less than male colleagues, compared with a British average of 14.2%.
"We want to ask the witnesses some pretty searching questions, not just about the pay gap but about their plan for how this is going to be solved," Morgan said.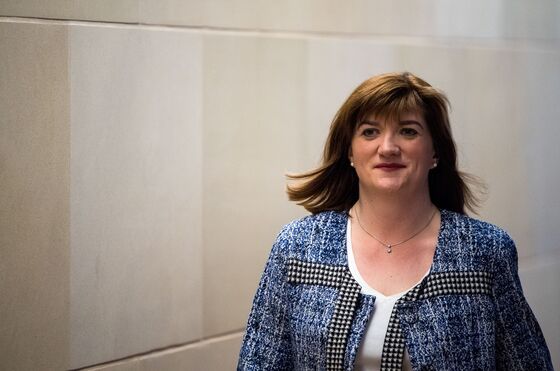 Morgan said the panel wants independent bodies to publish league tables to name and shame companies that are doing worst and applaud those that improve. Recruitment websites could also do more to highlight employers that have the best maternity/paternity leave policies, which in turn could persuade companies to improve their own, she said. The inquiry will explore whether gender pay figures need to be independently audited.
Britain's gender-pay data collection is more comprehensive than any other country, requiring firms with more than 250 employees to publish details each April. So far, though, offenders aren't subject to penalties as they would be in, say, Iceland, which threatens companies with fines if they can't prove they don't discriminate on gender, sexuality or ethnicity lines.
For her part, Morgan is against quotas for bad performance, even though economists like Vicky Pryce at the Centre for Economics and Business Research advocate them. She'd rather focus on changing the culture that underlies the discriminatory practices.
"What we need to do is change the culture and quotas don't do that," Morgan said. "My target is to no longer need to speak about this issue because it's gone away."