Bankruptcy Threat Hangs Over Japan's Pressured Power Market
(Bloomberg) -- The specter of freezing weather in Japan and surging energy prices are raising risks the nation's power retailers could follow their U.K. and Singaporean peers into bankruptcy. 
Japan's government and utilities, stung by last year's record rally in spot electricity prices, are now preparing for what could be the tightest power supply in a decade. Liquefied natural gas inventories have been boosted to their highest seasonal level in five years, while some regional utility companies are curbing power output.
A slew of factors -- from colder-than-usual weather, to changes by power producers in how they price spot electricity -- also threaten to roil Japan's energy retailers in the coming months as they face surging costs of wholesale electricity when they are selling to consumers at a set rate.
There's a chance some sellers could go out of business this winter, according to Yusuke Kojima, a director at Looop Inc., which supplies electricity to more than 330,000 households and small shops. 
"You're basically getting punched two years in a row," he said. "Retailers can't rebuild their business back up. Larger retailers might also be hit and forced to withdraw from business" depending on this year's situation, he said.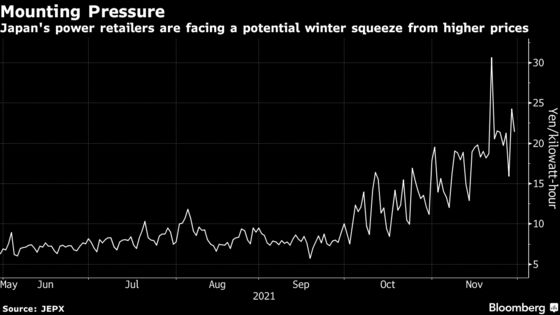 In Japan, companies affected by last winter's spike in energy prices are aware of the need to add fuel hedges, Kojima said in a Friday interview. However, a tight market and higher LNG prices are restricting those opportunities.  
The sector is also responding to changes in how power producers price spot electricity in the wholesale market. 
Power generators Jera Co. and Tohoku Electric Power Co. said they will sell power linked to additional spot fuel procurement, which will better reflect sky-high spot LNG costs, as opposed to an average rate that includes long-term contracts. The move is needed because the current methodology doesn't reflect procurement costs, Jera President Satoshi Onoda said Thursday.
Read more: Asian Competition for Spot LNG Heats Up as Korea Secures Supply
While such market structure changes are inevitable, the pace at which they are implemented is "a little too fast," according to Kojima. It also makes electricity bills even more exposed to the price of LNG, he said. 
"It's possible that with the current market structure, we'll see a tight power market in future winter seasons," he said. "Fossil fuel is being kicked out, so unless nuclear power plants restart, there's no reason that this will go away."