Russia Extends Rate Pause as Risks to Inflation Halt Easing
(Bloomberg) -- Russia's central bank kept interest rates unchanged for a third consecutive meeting and warned that external risks and the highest inflation expectations in almost a year mean monetary easing probably won't resume until 2019.
The benchmark was held at 7.25 percent, according to a statement on Friday. The decision was forecast by all 37 economists surveyed by Bloomberg. The central bank said the balance of risks has become pro-inflationary, making it "highly likely" that its policy will shift to a neutral stance only next year, a transition it previously wanted to complete in 2018.
Investors are focusing on Russia's rate path after government measures such as a plan to raise value-added tax complicated the central bank's efforts to keep inflation near its target of 4 percent. With global trade tensions flaring and a standoff against the U.S. showing little sign of abating, policy makers warned that developments abroad will shape their decisions alongside the VAT increase.
"Uncertainty persists over how strongly the tax measures may affect inflation expectations and how the external conditions will develop," the central bank said in the statement. "Given the effect of the planned fiscal measures on inflation and inflation expectations, monetary conditions should remain to some extent tight to limit the scale of secondary effects and stabilize annual inflation close to 4 percent over the forecast horizon."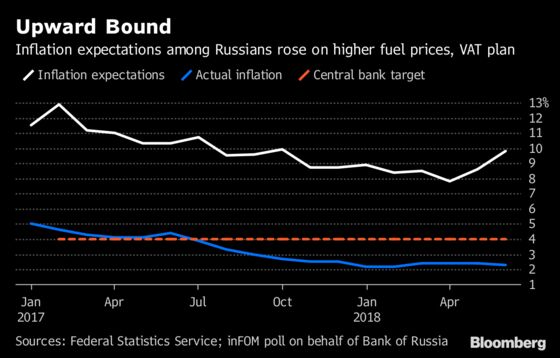 The Bank of Russia is on track to transition to a "neutral" stance -- which it previously described as a nominal key rate of 6 percent to 7 percent -- when monetary policy doesn't contribute to a slowdown or acceleration of inflation relative to the target. Its assessment of the neutral rate is "closer to the upper bound" of the range after U.S. sanctions touched off ruble volatility in April and gasoline prices jumped in May.
"The timeline is totally opaque now for when exactly in 2019 the central bank will cut rates," said Vladimir Miklashevsky, a senior economist at Danske Bank in Helsinki. "From now on, we need a global miracle to see a softer Bank of Russia in 2018."
Five analysts still predict a quarter-point rate cut this quarter, according to a separate Bloomberg survey conducted this month.
What Our Economists Say...
The suspense has gone out of Russian monetary policy, though just for now. The rebound in inflation could prove especially sharp. We see a long hold for interest rates well into 2019, but the decisions will get harder.
-- Scott Johnson, Bloomberg Economics. See his RUSSIA PREVIEW
The planned VAT increase to 20 percent from 18 percent from Jan. 1 could contribute about a percentage point to inflation, with the impact partly felt already this year, according to the central bank.
It forecasts annual consumer-price growth will reach 3.5 percent to 4 percent in late 2018 from 2.3 percent last month, temporarily exceeding the goal in 2019 and returning on target at the start of 2020. Inflation in July is set to be at as much as 2.6 percent, according to the statement on Friday.
Inflation expectations for year ahead, which the central bank calls a "pillar" of its rate decisions, picked up after the VAT announcement, rising last month to 9.8 percent. Policy makers said that the outlook among households "has stabilized" in July.
The risk environment in emerging markets could prove decisive for Russia to resume monetary easing, according to Commerzbank AG. Ruble volatility after a round of U.S. sanctions forced the central bank to suspend rate cuts since they could exacerbate the currency's weakness, they said.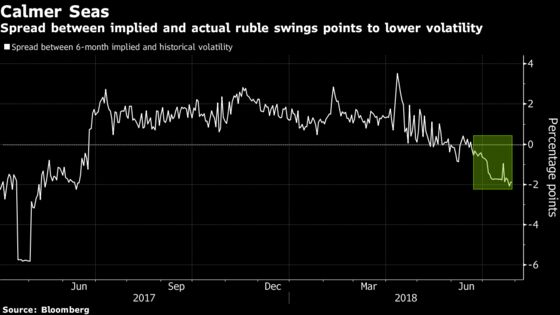 If the ruble isn't at threat from any global factors, the Bank of Russia will probably push ahead with easing, according to Commerzbank, which predicts a rate cut by the autumn. The Russian currency traded little changed after the decision at 62.98 versus the dollar.