Bank of Russia Hints at Pause After Five Straight Rate Cuts
Bank of Russia Governor Elvira Nabiullina hinted she may take a breather after delivering five consecutive interest rate cuts, potentially putting the brakes on a rally in Russian assets this year.
The likelihood of more cuts "remains roughly the same, but they might come later," Nabiullina told journalists in Moscow after a rate decision on Friday. "The space for reductions is shrinking."
The bank lowered its benchmark interest rate by 25 basis points to 6.25%, according to a statement published on Friday, taking the total reduction this year to 150 basis points. Another rate cut is possible at the next meeting in February or later in the first half, but not guaranteed, Nabiullina said.
The ruble, which has been the best-performing currency in emerging markets this year, pared an intra-day gain of as much as 1% after Nabiullina's comments. Government bonds were flat, despite a wider rally in emerging markets on Friday.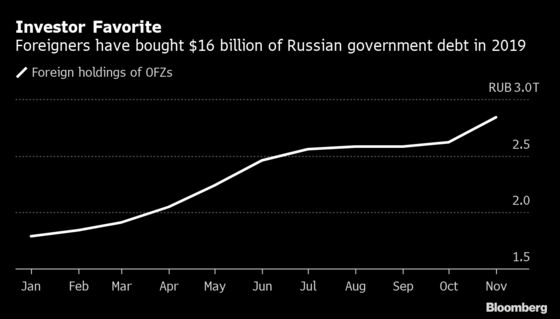 "It's a reminder that things can go both ways as markets have become very focused on further easing," said Liza Ermolenko, an economist at Barclays in London. "They are probably trying to manage expectations."
The rate cuts have so far failed to stoke inflation, which fell well below the bank's 4% goal last month, while economic growth has also lagged behind the government's goals. Nabiullina said Friday that the effect of easing will be spread out and the central bank needs time to evaluate the impact.
What Our Economists Say:

"A subtle change in the guidance leaves the door open for further easing but signals a greater chance of a pause before the next move. We still think another cut will come early next year, but that's going to be data dependent."

- Scott Johnson, Bloomberg Economics
Analysts at Goldman Sachs Group Inc. warned earlier this month that the central bank is underestimating the potential for price growth to slow dramatically and will come under pressure to revise down its 4% target. Disinflationary risks still exceed pro-inflationary risks over the short-term horizon, the central bank said in its statement Friday.
A pickup in spending in 2020 on a six-year government infrastructure program may help boost inflation, but the project has so far faced delays due to caution from bureaucrats about releasing funds.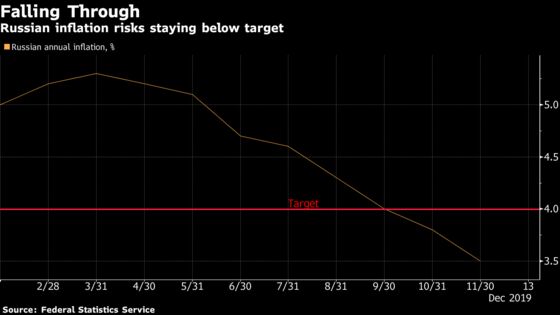 Russian local-currency government bonds, known as OFZs, have attracted inflows of about $16 billion this year due in part to faster-than-expected easing. The ruble is still a top pick for investors going into 2020, according to a Bloomberg survey of 57 global money managers.
Russia followed Brazil and Turkey in cutting rates this week as the Federal Reserve held off easing monetary policy further. Optimism about a U.S.-China trade deal has also created a rosier backdrop for emerging markets.
The ruble "still looks OK from all major perspectives," said Dmitry Polevoy, chief economist at the Russian Direct Investment Fund in Moscow. "We continue seeing value in OFZs even though one shouldn't expect the similar performance as in 2019.