Bank of Montreal's U.S. Push Rewarded With Record Profit
(Bloomberg) -- Bank of Montreal set a profit record for its U.S. business, thanks in part to Donald Trump's tax cuts and lower provisions for bad loans.
The lender earned C$364 million ($281 million) from its U.S. personal-and-commercial division in the fiscal third quarter, helped by rising revenue, and tax reform gains. Earnings for the U.S. business, which includes Chicago-based BMO Harris Bank, were up 36 percent from a year earlier and helped Bank of Montreal post profit that beat analysts' estimates.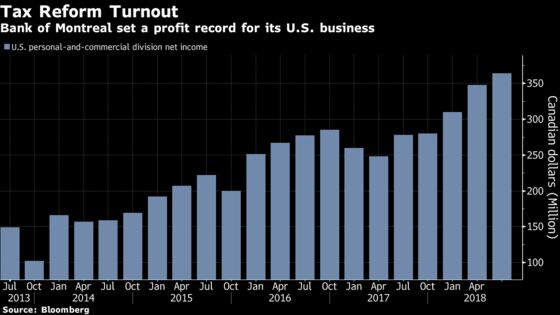 "BMO delivered strong results and ongoing earnings momentum this quarter," Chief Executive Officer Darryl White said Tuesday in a statement, adding that results were helped by "a particularly good contribution from our U.S. segment and from our competitively advantaged commercial businesses on both sides of the border."
White made gaining a greater share of earnings from the U.S. a priority when he took over at the Toronto-based bank in November. The lender has expanded in the U.S. Midwest since its 1984 takeover of Harris Bank, gaining strength with deals including its 2011 purchase of Milwaukee-based Marshall & Ilsley Corp.
Bank of Montreal has seen a boost in the U.S. from Trump's tax cuts signed into law in December. The lower rates have also fueled annual profit gains at Wall Street's biggest banks. The Canadian bank is also benefiting from cost-cutting and restructurings aimed at turning around the worst productivity among its peers.
Net income for the period ended July 31 rose 11 percent to C$1.54 billion, or C$2.31 a share, from C$1.39 billion, or C$2.05, a year earlier, the firm said in a statement. Adjusted per-share earnings were C$2.36, beating the C$2.25 average estimate of 14 analysts surveyed by Bloomberg.