Bank of Korea Cuts Growth and Inflation Forecasts, Holds Rates
(Bloomberg) -- South Korea's central bank cut its economic growth and inflation forecasts and left its key interest rate unchanged as the nation's export-dependent economy faces rising risks.
BOK Governor Lee Ju-yeol said the gross domestic product was now expected to grow 2.5 percent and inflation to register 1.1 percent in 2019. Those marked downgrades from forecasts of 2.6 percent and 1.4 percent, respectively, in January.
Lee said BOK policy would remain accommodative, but he cited record household debt in reiterating that it was not yet time to consider a rate cut. He said concerns over a recession were "excessive," noting that the economy was still expected to grow roughly in line with its potential rate.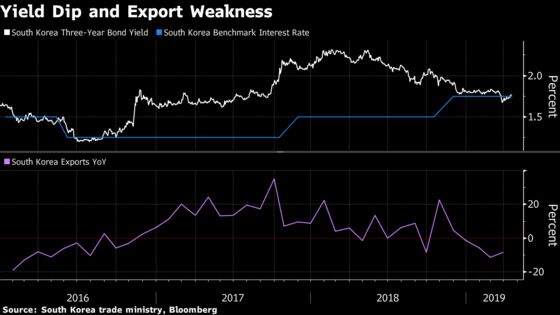 Lee blamed weakening exports, particularly of semiconductors, and slowing business investment for the growth downgrade. But he said exports and capital spending were likely to improve in the second half of the year.
With risks still growing, most economists see no change in the benchmark rate this year, although the bond market has flirted with the possibility.
"While Q1 growth is likely to be weak, there are some early signs that suggest Korea's growth may be close to bottoming and we concur with the BOK's view on exports gradually recovering in H2," said Krystal Tan, economist at Australia & New Zealand Banking Group. She added that ANZ is maintaining its forecast of no change this year, saying Lee didn't seem concerned about low inflation.
The BOK kept its seven-day repurchase rate at 1.75 percent, as expected by all but one of 22 economists surveyed by Bloomberg. The rate was raised from a record-low 1.25 percent in 25 basis point increments in 2017 and 2018.
What Bloomberg's Economists Say

"Downward pressures on growth and low inflation persist. But the BOK's focus on limiting any further buildup in financial imbalances -- especially in the household sector -- suggests the central bank will exercise extra caution before considering any shifts in its policy stance."

--Justin Jimenez, Bloomberg Economist
Click here to view Korea Insight
The South Korean won weakened 0.2 percent to trade at 1,136.85 per dollar as of 12:56 p.m. following the governor's press briefing. Three-year bond yields slipped 4 basis points to 1.74 percent, while the yield of 10-year bonds dropped 6 basis points to 1.89 percent.
Persistently low inflation has also caused concern. Consumer prices rose 0.4 percent in March from a year earlier, the slowest pace since July 2016, and far below the BOK's 2 percent target. The BOK said inflation would remain below 1 percent for a while, approaching the low- to mid-1 percent level starting in the second half of the year.
Lee blamed the sagging inflation on lower prices for oil and agricultural products. If those were excluded, inflation would be around mid- to high 1 percent he said, adding that the "possibility of deflation is very low."
Some help for the economy is on the way, with the government planning an extra budget for this year of up to 7 trillion won ($6.1 billion). Lee said the BOK's new forecasts didn't take the extra budget into account because the size of the planned spending package still hasn't been determined.