Bank of Korea's Lee Confident on Economy Despite Virus Uptick
(Bloomberg) -- Bank of Korea Governor Lee Ju-yeol said the economy will still expand faster than previously expected, even as rising coronavirus infections and a slow pace of vaccinations at home raise concerns over the outlook.
Growth will probably reach the mid-3% mark this year, above a 3% central bank forecast in February, Lee said at a press briefing after the board held its key interest rate at 0.5%.
Government bonds fell on the upbeat assessment, even as the governor reiterated that the bank will keep policy accommodative and said it's too early to consider a shift away from its existing position.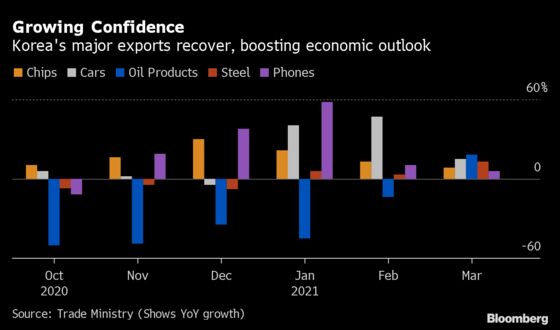 "The current stance needs to be maintained because we need to confirm whether the momentum for an economic recovery takes root as we watch the Covid situation unfold," Lee said. The better growth "stems more than anything from improving external conditions," with exports and facilities investment also increasing faster than earlier expected, he said.
The yield on South Korea's 10-year government bond rose three basis points to 2.02%, while the won weakened 0.2% against the dollar to 1,118.90 as of 12:48 p.m. in Seoul.
Lee said his outlook assumes the local virus situation won't worsen significantly, and that the government's vaccination campaign proceeds as planned in the second half of the year. He expected inflation to hover around the target of 2% this quarter before falling slightly in the second half of the year.
"The governor's tone has changed and he expressed very strong confidence in growth," said Kang Seungwon, fixed income strategist at NH Investment & Securities. "But the economy isn't yet going to be strong enough to accommodate a rate hike, with potential for the momentum in the exports recovery to peak during the second quarter."
Korea has seen some signs of the export-led recovery reaching domestic sectors, with employment rising and consumers turning optimistic for the first time since the start of the pandemic. But with daily virus cases rising close to 700 recently, concerns over a fresh wave of infections has prompted the government to warn of tighter curbs, which could derail a nascent revival of consumer spending and employment.
What Bloomberg Economics Says..
"Get used to the Bank of Korea's policy rate at a record-low of 0.5%, where it stayed Thursday -- the central bank is likely to keep it there for an extended period, especially with a fresh virus wave threatening to damp the recovery. Our baseline forecast remains for the central bank to remain on pause through this year and likely next."

--Justin Jimenez, Asia Economist

For the full report, click here
Lee said financial stability continues to feature high in the BOK board's agenda. Still, high levels of debt are better managed by macro-prudential policies as monetary settings need to remain accommodative for now, he added.
Korea's fast increase in household debt has led to soaring home prices that exacerbate economic disparities and raise the risk of a bubble. After liquidity pumped into markets helped buoy traditional financial assets, volatility is rising in cryptocurrency markets as well.
Lee said the central bank is closely monitoring the trends in market yields and banks' lending costs, and said any further purchase of bonds will depend on market situations. The central bank has bought 2 trillion won ($1.8 billion) of government bonds so far this year, while it said it would stick to its earlier plan to buy around 5 trillion to 7 trillion won of bonds in the first half of 2021.