Bank of Israel Stays on a Dovish Path Since November `Mistake'
(Bloomberg) -- Israel's first increase in interest rates since 2011, at a meeting three months ago led by an interim governor, is looking more like an aberration by the day.
On Monday the bank again held its benchmark rate steady at 0.25 percent and reiterated its commitment that any future rate increases would be "gradual and cautious." Economists surveyed by Bloomberg unanimously had forecast rates to remain unchanged, despite growth and inflation data earlier this month that surpassed expectations.
"They confirmed the dovish approach," said Rafi Gozlan, chief economist for Israel Brokerage and Investments in Tel Aviv. "The next move in rates is far from now."
The surprise decision to raise rates in November from all-time lows, at the only monetary committee meeting led by an interim head, was meant to usher in a normalization that would mark the end of an era of record-low borrowing costs. That now looks like a difficult task.
The November rate increase "was a mistake," said Amir Kahanovich, chief economist for Excellence Investment House, who sees a deceleration in inflation and economic growth. Going forward, the options are to leave rates at their current level "or to take them down."
The urgency to raise rates has lessened after the shekel's best month against the dollar in almost two years and tepid inflation at home accompanied a dovish turn by many of the world's central banks. Inflation is expected to remain near the lower bound of the BOI's 1 percent to 3 percent target range in coming months, the central bank said Monday.
A Bloomberg poll found the key rate will probably end the year at 0.5 percent, a quarter point less than predicted in the previous survey. Swaps that gauge rate expectations a year from now indicate only eight basis points of tightening.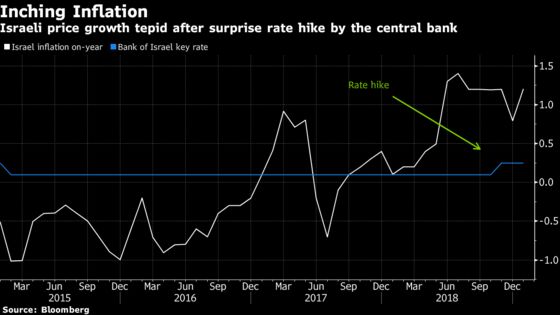 "I don't see what's happening in core inflation which really could justify substantial interest rate increases," said Gil Bufman, chief economist at Bank Leumi Le-Israel. "Maybe they just do the additional 25 basis points this year and that's that."
Not everyone agrees. Shmuel Ben-Arie, head of investments for Israel at Pioneer Wealth Management Ltd., said that if the U.S. falls into recession -- something sure to weigh on the Israeli economy -- the Bank of Israel won't want to be caught with no monetary policy ammunition.
"The Bank of Israel could raise interest rates in the near term to 'refill the chamber,'" he wrote in a note to clients.
Moreover, Ben-Arie said, the shekel is the Bank of Israel's main consideration. If the currency starts to weaken against the dollar, then "no matter what the Bank of Israel's research department says, the governor won't miss the opportunity to normalize rates," hiking two or even three times this year, he wrote.
Officials were expecting economic growth to slow toward the end of 2018, but instead gross domestic product growth last quarter surprisingly accelerated, exceeding forecasts on a rebound in consumer spending. For the year, the statistics bureau estimates GDP growth eased to 3.3 percent from 3.5 percent in 2017, not far off what the central bank has said is its long-term potential.
The outlook for this year isn't much more promising. Analysts surveyed by Bloomberg cut their GDP growth forecast to 3.3 percent for 2019, from 3.4 percent previously.