Bank of Canada Says Rates Appropriate for Now, But Hikes Coming
(Bloomberg) -- The Bank of Canada's top officials say current interest rate levels remain "appropriate for the time being" in light of turmoil in oil markets, but they remain confident multiple increases will be needed in the future.
In a speech Thursday outlining some of the deliberations from Wednesday's rate decision, Governor Stephen Poloz said the economy's oil sector featured prominently in the governing council's discussions, with slumping prices like to create a "painful adjustment" in Western Canada and have a "meaningful impact" on the overall economy. The central bank left the benchmark rate unchanged at 1.75 percent.
Problems in the oil sector add to a series of other developments in recent weeks that "have been on the disappointing side," Poloz said, citing a drop in business investment in the third quarter, growing concerns about a global economic slowdown, and historical revisions of GDP that suggest the economy is smaller than initially believed.
"Governing Council determined yesterday that the current level of interest rates remains appropriate for the time being," said Poloz, according to prepared remarks from the speech. "We will assess all of these new developments in our new projections" in January, he said.
Investors aren't convinced the Bank of Canada will need to boost rates much further, after a global sell-off in stocks Thursday pushed bond yields lower around the globe. The yield on Canada's two-year notes dropped seven basis points to 1.99 percent. The yield has now fallen eight straight sessions, the longest such streak in almost four years. The odds of a rate hike in January have now plunged to just 13 percent, from more than 60 percent last week, based on trading in the swaps market.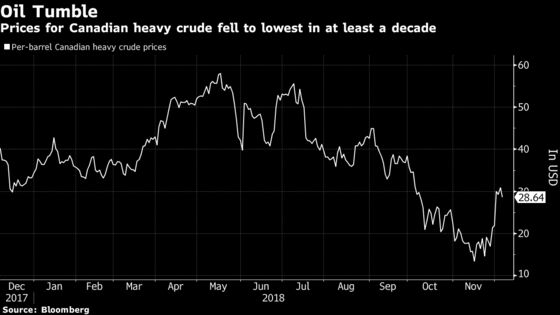 "Poloz stated that the current level of rates were appropriate for the time being, a possible hint that the bar is high for a move in January," Royce Mendes, an economist at Canadian Imperial Bank of Commerce, wrote in a note to clients. "The move in markets yesterday was clear, and Governor Poloz didn't do anything to walk back investors' dovish interpretation today."
The Bank of Canada has already raised interest rates five times since mid-2017, and despite the recent negative developments, Poloz reiterated his belief officials will eventually need to bring interest rates back into a "neutral range," which he said was "somewhere in the neighborhood of 2.5 percent to 3.5 percent." He cited the backdrop of low unemployment, inflation close to target and an economy that is operating close to capacity.
"This is the point of the business cycle where inflation pressures can start to build, so it is natural that we are looking to move interest rates to a neutral level," Poloz said.
The pace of future hikes will "remain decidedly data dependent," Poloz said, and will depend on how the economy adjusts to higher interest rates and how global trade policy unfolds. The future stance of policy will also be determined by the "persistence of the oil price shock, the evolution of business investment and our assessment of the economy's capacity," he said, reiterating language from yesterday's statement.
The Canadian dollar, which has fallen to the lowest since June 2017 since yesterday's rate statement, weakened for a third day, down 0.5 percent at C$1.3421 at 9:31 a.m. in Toronto trading.
Poloz listed a number of important developments since October:
Growing concerns of a global economic slowdown, with the main risk being U.S.-China trade tensions; higher tariffs will slow growth and at the same time raise inflation -- "a combination we used to call stagflation"; that creates a particular challenge for policy makers since containing inflation would become paramount
Canadian economic data since October have been disappointing. Underlying composition of growth in 3Q wasn't in line with BOC expectations; the economy was losing momentum going into 4Q; recent data in the housing sector have been softer than expected, but fundamentals remain strong and credit growth has steadied
Nafta uncertainty appears to have had a very strong impact on business investment. So did delay of Trans Mountain pipeline. New trade agreement and tax cuts will support investment going forward and investment rebound should support exports
GDP revisions mean level of output today is now believed to be nearly 1 percent lower than previously thought and that could impact inflation outlook; will have more to say about that in January
On oil, supply has been a major part of slump but also worry about moderating global growth on demand; Alberta's initiative to impose output reductions and add more rail capacity will help clear backlog, and more pipeline capacity would certainty help in the long term
Given consolidation, the net effects of lower oil prices should be smaller than they were in 2015