Bank of Canada Pares Back Optimism as It Holds Rates Steady
(Bloomberg) -- The Bank of Canada walked back some of its enthusiasm about the economic outlook amid a crisis in the nation's oil sector, keeping interest rates unchanged Wednesday and suggesting there may be less urgency to tighten monetary policy in the future.
The Ottawa-based central bank held its overnight benchmark rate at 1.75 percent, reiterating it expects to eventually remove all monetary stimulus from the economy. But its statement was more guarded than the last one in October and cited the possibility that recent negative economic developments may mean the economy isn't running up as much against capacity constraints as previously thought.
The less-confident tone is an acknowledgment of growing risks, particularly in the oil sector, to what has largely been a strong expansion, casting doubt on whether the economy can cope with higher borrowing costs. Canada's government bonds rallied and the loonie tumbled as traders repriced odds of a January hike.
The slowing economy "implies a longer time horizon for returning to neutral," said Andrew Kelvin, senior Canada rates strategist at Toronto-Dominion Bank in Toronto. This "materially reduces the odds of a January rate hike."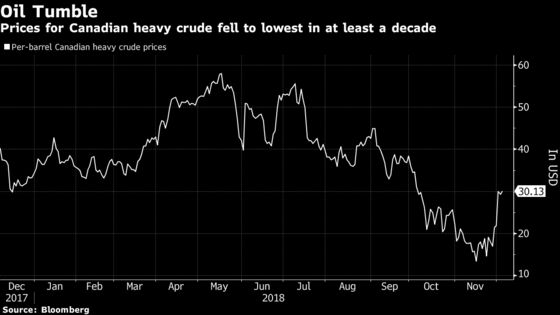 Citing moderating global growth, a "materially weaker" outlook for the oil sector, a faster-than-expected deceleration of inflation, a drop in business investment and downward historical revisions to output, the Bank of Canada said "there may be additional room for non-inflationary growth." This indicates they believe there could be more excess capacity in the economy than policy makers had been estimating and implies less of a need for rate increases.
The oil sector, which has been in a state of crisis after prices plunged, featured prominently in the statement. The Bank of Canada acknowledged the sharp decline in prices and the planned cuts in production, which have occurred since it released its last forecasts in October.
"In light of these developments and associated cutbacks in production, activity in Canada's energy sector will likely be materially weaker than expected," it said of an industry that generates more than 10 percent of the nation's exports receipts.
Poloz has already raised interest rates five times since mid-2017 as he tries to return borrowing costs to more normal levels -- possibly as high as 3 percent, according to recent statements. But the dramatic slump in oil prices, and efforts by the Alberta government to remedy the situation with production cuts, have muddied the picture for the economy.
The Canadian dollar depreciated after the decision, trading 0.8 percent lower to C$1.3371 against its U.S. counterpart at 11:11 a.m. in Toronto. Yields on two-year government bonds fell 5 basis points to 2.06 percent, after the central bank pointed to signs of slower-than-expected growth.
As recently as October, investors were anticipating at least three more hikes by the end of next year -- but those expectations have dwindled to no more than two. Swaps trading suggests the Bank of Canada will cap its hiking cycle at no more than 2.25 percent, below its estimate of a "neutral" range for rates of between 2.5 percent and 3.5 percent.
"Governing Council continues to judge that the policy interest rate will need to rise into a neutral range to achieve the inflation target," the bank said in the statement, adding the appropriate pace of increases will depend on the "effect of higher interest rates on consumption and housing, and global trade policy developments."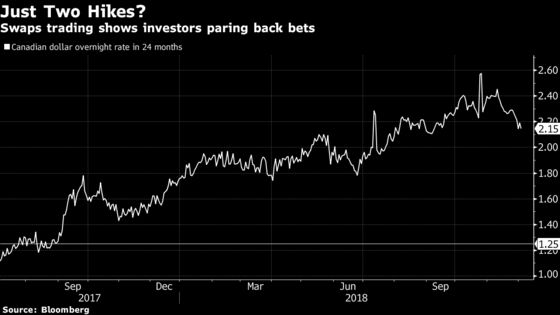 Even more guarded were comments that its "future stance" will be dictated by the "persistence of the oil price shock, the evolution of business investment, and the Bank's assessment of the economy's capacity" -- which may be a signal they could revisit their hiking bias altogether if the situation deteriorates.
Odds for a hike at the Bank of Canada's next rate decision in January fell below 50 percent Wednesday, from being fully priced earlier last month.
Governor Stephen Poloz will have an opportunity to discuss the outlook in more detail when he delivers a speech Thursday in Toronto.
What Our Economists Say..
Policy makers are likely to move cautiously in the early part of 2019, gathering additional information on external developments, particularly in the energy sector. For this reason, Bloomberg Economics expects the BoC will ultimately leave the rate unchanged again in January.
--Tim Mahedy, Bloomberg Economics (read the full report)
Core inflation running at the central bank's 2 percent target -- and which indicates the economy is operating at close to capacity -- is one key reason policy makers want to raise rates. Another is that the economy continues to do relatively well, growing at a healthy 2.2 percent clip so far this year, following a 3 percent pace in 2017.
But risks remain, particularly with the nation's highly-indebted households, leading some to question whether the economy can cope with multiple headwinds on top of rising borrowing costs.