Bank of America's Lending Business Boosted by Higher Rates
(Bloomberg) -- Bank of America Corp. got another boost from rising interest rates in the third quarter.
The firm's lending business produced the most interest income since 2011 and its net interest margin climbed to 2.42 percent, better than analysts estimated. That helped propel profit to a record.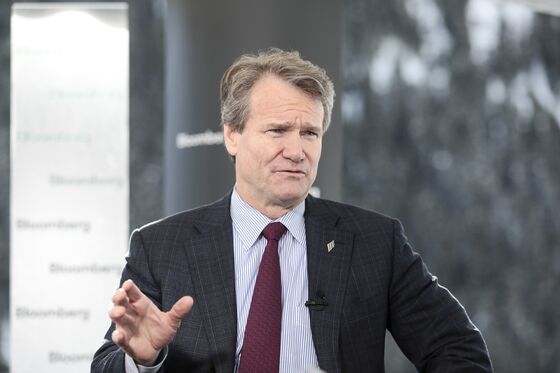 The results follow similar good news from Bank of America's biggest competitors on Friday, when JPMorgan Chase & Co., Wells Fargo & Co. and Citigroup Inc. said their consumer-lending businesses were thriving. The Federal Reserve has raised its benchmark interest rate seven times in the last two years, giving banks room to boost what they charge on loans more quickly than what they pay their depositors.
"All the trends on the consumer side feel good," Chief Financial Officer Paul Donofrio said on a conference call with journalists. "We feel really good about the U.S. economy."
Net income jumped 32 percent to $7.2 billion, or 66 cents a share. Analysts had predicted 62 cents, the average of 24 estimates compiled by Bloomberg. Net interest income rose 6 percent to $11.9 billion.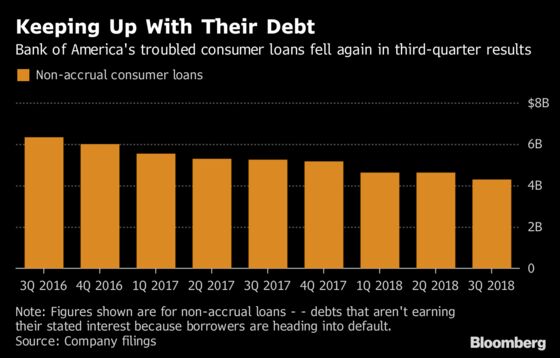 Shares of the company, which dropped 3.6 percent this year through Friday, were little changed in early trading in New York.
Bank of America's investment-banking unit posted an 18 percent revenue decline for the third quarter as the firm got more selective in taking on potentially troublesome deals. That compares with a mixed picture for rivals that reported results on Friday.
"Third-quarter results were strong and steady as solid net interest income and diligent expense management more than offset lighter fee income," Gerard Cassidy, an analyst at RBC Capital Markets, wrote in a note.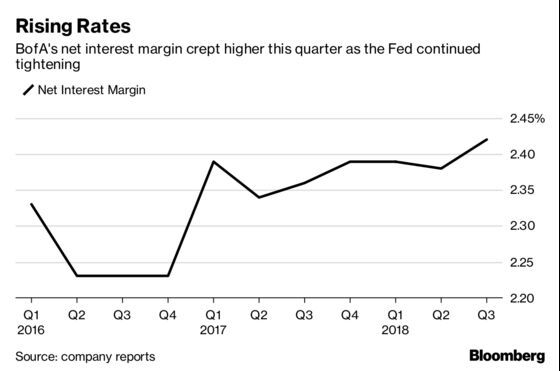 The change in risk appetite came after the firm lost roughly $300 million related to South African furniture retailer Steinhoff International Holdings NV. The strategy shift has spurred departures, including the firm's head of corporate and investment-banking division, Christian Meissner.
Bank of America's trading revenue fell 2.5 percent as the fixed-income unit posted a bigger drop than analysts expected. JPMorgan said Friday that its equity-trading revenue jumped 17 percent, helping to counter a 10 percent tumble on the fixed-income side.
More highlights:
Provisions for credit losses were $716 million, down from $834 million a year earlier. Analysts had estimated $969 million.
Efficiency ratio, a measure of profitability, improved to 57 percent.
Total average loans for the period climbed to $931 billion from $918 billion.