Bank Indonesia Says Key Rate Near Peak as Rate Decision Looms
(Bloomberg) -- Bank Indonesia Governor Perry Warjiyo signaled the central bank may hold the key rate on Thursday, saying the benchmark interest rate has "almost reached its peak" after an aggressive hiking cycle helped stabilize the nation's currency.
While the bank's monetary policy stance remains "pre-emptive and ahead of the curve," a more favorable outlook for U.S. interest rate will allow Indonesia to rely on other instruments to stabilize the financial market and support economic growth, Warjiyo told a panel of lawmakers in Jakarta on Wednesday.
The bank is set to announce the rate decision at 2 p.m. local time on Thursday, with all 26 economists in a Bloomberg survey predicting Warjiyo and the board will hold the rate at 6 percent.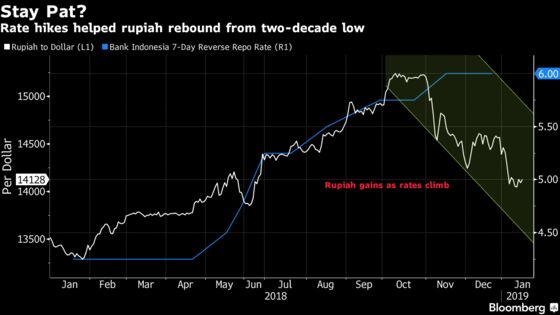 Bank Indonesia's aggressive rates hikes, in response to an emerging market rout triggered by rising U.S. rates, helped the nation's currency rebound almost 8 percent from a two-decade low last year. With the U.S. Federal Reserve turning more dovish about future hikes and headwinds from a slowing global economy increasing, it may find room to pause to support Southeast Asia's largest economy.
Key to the rupiah's outlook still remains the Fed, and Warjiyo said it expects the U.S. to raise rate only twice this year. Bank Indonesia will continue to intervene in the currency and bond markets to ensure financial stability, an approach that has worked well since it last raised interest rates in November.
"We will still maintain preemptive and ahead-of-the-curve monetary policy stance, even though our interest rate, BI 7-day reverse repo rate, has almost reached its peak for now," Warjiyo said. Bank Indonesia's monetary policy will continue to be aimed at stability and "we still need to monitor global condition."
BI will look at other instruments to support economic growth momentum, including relaxing macro-prudential policy measures, payment system policy, and financial market deepening as well as the Shariah financial economy, Warjiyo said.
Fourth quarter current-account deficit provisionally estimated at $8.8 billion even though balance of payment seen in $4 billion surplus, he said.