Bank Indonesia's Incoming Governor Pledges to Stabilize Rupiah
(Bloomberg) -- Bank Indonesia's newly appointed Governor Perry Warjiyo said he will use monetary policy as a tool to stem a selloff in the nation's currency and bonds.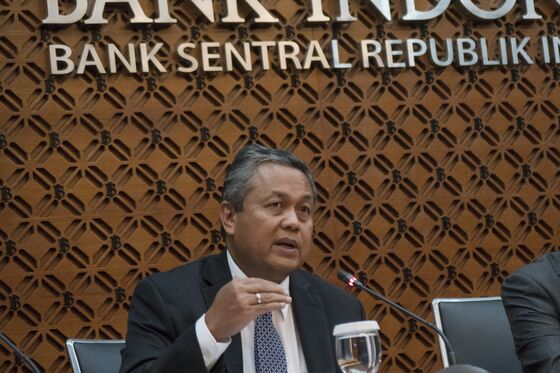 In his first comments after being sworn in to office on Thursday, he pledged to take more pre-emptive measures to maintain stability, saying his short term priority will be to stabilize the rupiah, while also supporting economic growth.
Here are some of his key comments to reporters in Jakarta:
"For stability, we will prioritize our monetary policies, through exchange rate measures and intervention in markets.
"We will continue dual intervention in bond and forex markets, and will coordinate with the government and the Financial Services Authority for that. We have bought 50 trillion rupiah of government bonds since early this year and spent 13 trillion rupiah this month."
"Bank Indonesia is committed to maintaining stability of the exchange rate. We plan on being pre-emptive, we will implement a front-loading policy and be ahead of the curve in our policies."
"Bank Indonesia has five instruments. One instrument, namely monetary policy will be prioritized to maintain stability. But we also have other four instruments to boost economic growth. The first one is macro-prudential policy relaxation, especially to support our housing sector because it is a leading sector in the economy."
"Then, we will speed up efforts to deepening the money market, particularly for financing infrastructure development."
"Third one is about payment system, to support the national strategy, as well as digital economy and financial sector."
"We, Bank Indonesia, are prioritizing stability, but we are also looking for an opportunity to support growth. Monetary policy is for stability, while pro-growth instruments are macro-prudential policy relaxation, the deepening of money market, ones related to payment system and sharia economy."