London's Decline as Swap Hub Begins With Banks' Exit From LCH
(Bloomberg) -- Some of the world's biggest banks are selling their stakes in the largest clearinghouse for interest-rate swaps, a sign London's global dominance in derivatives is ending.
Deutsche Bank AG, Commerzbank AG and Nomura Holdings Inc. are among the firms selling out of London Stock Exchange Group Plc's LCH clearing unit, while banks including JPMorgan Chase & Co., Societe Generale SA and Barclays Plc are reducing their ownership, according to an LSE statement on Friday. In all, LSE is raising its stake in LCH to more than 80 percent from around 65 percent currently.
LCH is at the center of a Brexit battleground, with trillions of derivatives contracts at stake. In the event of the U.K. leaving the EU without a deal on future trading arrangements, Europe's banks may have to move many of their interest-rate swap contracts to rival Eurex, which is owned by Frankfurt-based Deutsche Boerse AG. Many of the same banks selling their stakes in LCH are also among the top 10 members of Eurex's clearing partnership program, giving them a share in Eurex's revenue from clearing.
"Banks who are exiting see that derivatives clearing in London is coming to an end," said Tom Kirchmaier, professor at the Copenhagen Business School. "Europe will be tough on the market for euro-denominated assets."
Eurex has started laying the groundwork for firms wishing to switch clearinghouses by asking four companies to help, Bloomberg reported this week. But according to LCH's rulebook, firms have to give three months' notice if they want to move their derivatives positions in time for Brexit in March. So far, nobody has taken such drastic action, Paul Froud, LSE's head of investor relations, said on an earnings call on Friday.
Even so, the value of swaps cleared by Eurex jumped sixfold in January and represented 10 percent of overall new business in euro-denominated cleared swaps by July. Eurex is aiming to raise that to 25 percent in 2019.
LSE Group Chief Financial Officer David Warren told an earnings call that euro-denominated trades account for about a quarter of positions at LCH, and that euro trades originating from the other 27 EU member states amount to between seven and 14 percent of positions at LSE's clearing business. He declined to say how much business European banks represent across all currency swaps.
Financial and nonfinancial companies alike rely on the $319 trillion swaps market to protect themselves against -- and make bets on -- changes in interest rates.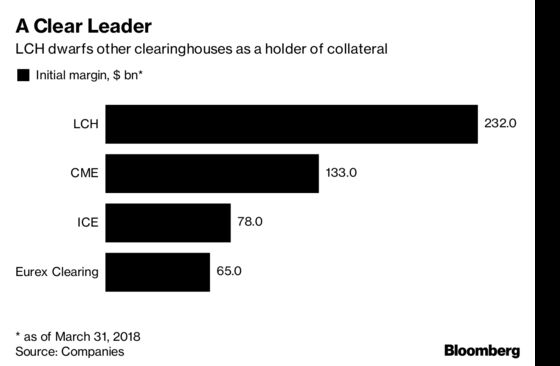 Despite its challenges, LCH starts from a strong position: it clears more than 90 percent of cleared interest-rate swaps globally, and an even higher share of swaps cleared in Europe. And a regulatory push currently underway to make central clearing mandatory for over-the-counter derivatives will boost the overall market size.
"Clearing will definitely increase over the next five years," said Peter Rippon, CEO at OpenGamma, a derivatives analytics company. "LCH is well placed to benefit from that trend and more independence is positive for the end clients."
Warren said that he was "confident" the LCH stake is a good investment, however Brexit turns out.