Bank Executives Offer Some Optimism While Their Stocks Still Lag
(Bloomberg) -- U.S. bank executives expressed some optimism this week. Investors were reluctant to join them.
Bank of America Corp. is seeing consumer spending catch back up with last year's pace, Chief Executive Officer Brian Moynihan said Tuesday at an industry conference. And confidence among corporate CEOs is making a comeback, JPMorgan Chase & Co. Chief Financial Officer Jennifer Piepszak said at the same event.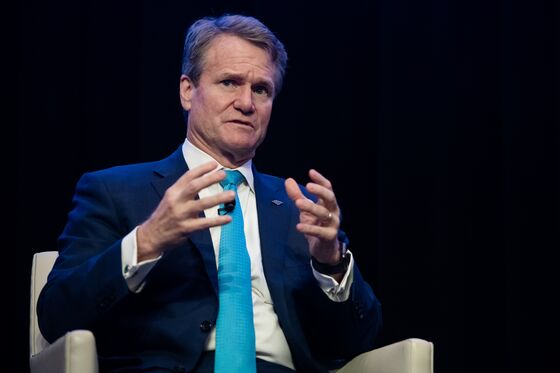 That didn't keep bank stocks from posting the worst performance in the S&P 500 Tuesday. It gained ground Wednesday, but the S&P 500 Financials Index is still down almost 19% this year while the broader market is up.
Banks haven't seen spikes in charge-off levels as customers stay current on loans with help from government aid and lenders' deferral programs. But lawmakers have yet to produce the next round of federal stimulus, and with unemployment levels remaining high, financial institutions said they could see losses materialize next year.
Citigroup Inc. shares fell 5.6% Monday after Chief Financial Officer Mark Mason warned revenue would drop and the bank would set aside more reserves to cover potential losses in the third quarter. The bank said this week it will resume job cuts.
Citigroup is also forecasting a slower recovery than what it was expecting at the end of the second quarter largely due to a slower pace of re-hiring, according to Mason.
"While things do look a little bit better than we thought they would, we're still dealing with an enormous amount of uncertainty looking ahead," JPMorgan's Piepszak said.
JPMorgan's wholesale clients are paying down revolving lines they took out in the first half of the year and, among consumer clients, card payment rates have been higher, she said. With charge-offs, "we're not seeing anything that you would typically expect to see at this point in a recession" as losses are delayed, she said.
"The actual loss-taking or charge-off activity is getting pushed out," Wells Fargo & Co.'s Chief Financial Officer John Shrewsberry said Monday.
Ally Financial Inc. saw delinquencies drop in August and net charge-offs this year will probably be lower than originally expected, Chief Financial Officer Jennifer LaClair said Tuesday. But the unemployment rate will probably correlate with net charge-offs picking up in 2021, she said.
Given uncertainty around the economic climate, Zions Bancorp will be cautious about reserves, Chief Operating Officer Scott Mclean said Tuesday. "It would take a lot to let up on the reserve we've built until we see a little more clarity about how the pandemic and the economy is going to play out."